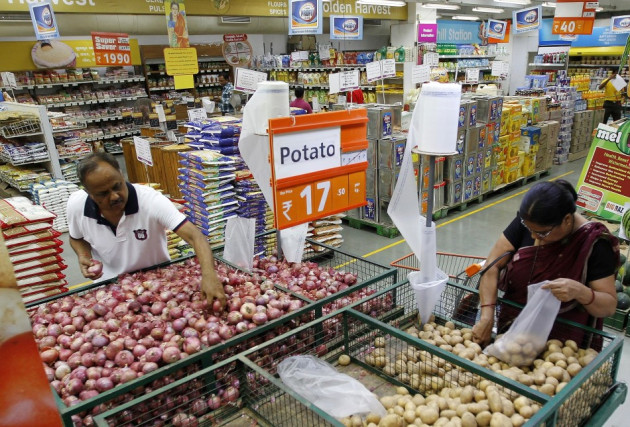 India's economic growth hit a ten year low in the last financial year after Asia's third largest economy expanded by only 5%.
The Indian economy, for the financial year ending 31 March 2013, grew in line with government expectations.
Up until two years ago the Indian economy clocked a 9% growth annually.
India's economy grew 4.8%, from a year earlier, in the January-March quarter, in line with a Reuters economists' poll.
Government data showed the services sector, which accounts for more than half of India's GDP, grew 6.6% annually in the January-March quarter.
The manufacturing sector expanded 2.6% annually in the March quarter, while Agricultural activity grew 1.4% from a year ago. India is the world's second largest grower of wheat, rice and sugar cane.
The mining sector, contracted 3.1% annually. Government data in April showed that production from mines in iron-ore rich India dropped 8% in February, as compared to a year ago. A court-imposed blanket ban on iron-ore mining in two southern states, Karnataka and Goa, was partially relaxed in April but the ban had dragged down industrial output.
Annual capital investment growth slowed down to 3.5% in the January-March quarter, from an annual 4.5% in the October-December quarter.
Economists at Barclays expect the country's economic momentum to remain weak in the near future, something that could worry Prime Minister Manmohan Singh.
South Asia's longest serving prime minister will lead his coalition government to the polls early next year. But weakening economic growth over the years and multiple graft scandals have dented his coalition's image.
Scandals rocked India's parliament where opposition parties have, on several occasions, refused to engage in debate about legislation that could have boosted growth.
"The likelihood of continued fiscal austerity, along with weakness in typically resilient segments of the economy, such as the domestic services sector, suggests sluggish economic activity for a while," Barclays said in a note.
Paris-based think-tank Organisation for Economic Cooperation and Development's (OECD) said on 30 May that India had probably surpassed Japan to become the world's third largest economy after the US and China. But this may not lift spirits in New Delhi.
The OECD had, in November, forecast India's GDP to grow at 5.9% in 2013, but cautioned that structural bottlenecks in the country could further constrain investment and growth potential.