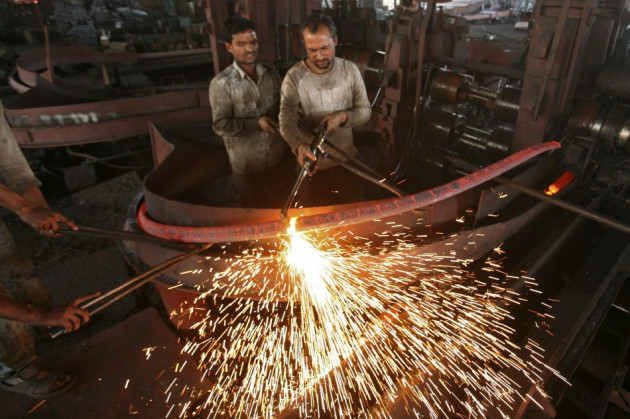 Indian economy growth rate has slowed down to the lowest in three years, reflecting the country's reluctance to take up reforms and continue monetary controls.
Gross Domestic Product (GDP) grew 5.3 percent during the July to September quarter from a year earlier, slower than the 5.5 percent growth reported in the previous quarter, according to India's Central Statistical Office (CSO).
This was against the analysts' median estimate of 5.2 percent growth during the quarter, according to Dow Jones Newswires. Asia's third-largest economy has been targeting a 9 percent economic growth to provide jobs for a growing young population.
The economic growth in the first six months of the ongoing fiscal year is 5.4 percent, down from a 7.3 percent growth in the year-ago period.
Manufacturing output in the July-September period rose marginally by 0.8 percent, compared to a 2.9 percent growth a year earlier, according to the government data. Farm sector output saw a 1.2 percent growth against a 3.1 percent growth in the same period last year.
In the July-September quarter, growth rate in trade, hotels, transport and communications segment declined at 5.5 percent from 9.5 percent in the same quarter a year ago. The growth rate of electricity, gas and water supply came down to 3.4 percent in the second quarter, from 9.8 percent in the year-ago quarter.
Growth rate of services sector, which forms a large part of the GDP, stood at 9.4 percent in the second quarter, against 9.9 percent a year ago.
In an attempt boost economic activity, India recently opened its retail and aviation sectors to foreign investors. Nevertheless, the latest data suggests that the country should go for more liberalisation.
The CSO report also urged the Reserve Bank of India to reduce interest rates to spur growth of the economy. The central bank, which is trying to contain inflation, has so far resisted the rising demand to lower borrowing costs.
"There is a wide-scale slowdown in growth and focus now should shift from inflation to growth," State Bank of India chief economist Brinda Jagirdar told the BBC.
"Growth has become critical as consumption is stalling on top of continued investment slowdown."
India's finance minister P Chidambaram had earlier said that the economy is in a "difficult situation" and suggested an increase in production of goods and services to tackle the problem.