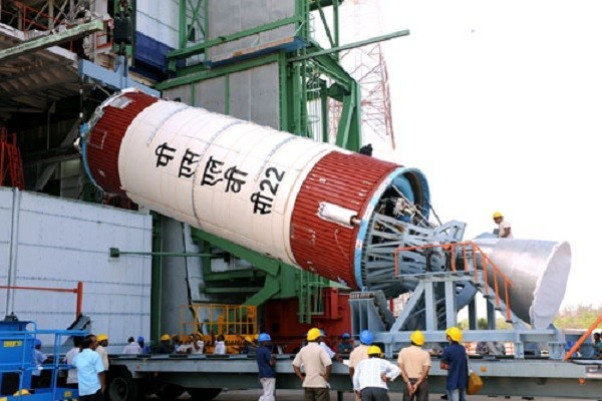 Indians the world over are waiting with bated breath for an epic moment in the history of the nation as the best scientists in the country make last-minute preparations for the launch of the Mangalyaan spacecraft to Mars.
The Indian Space Research Organisation's (ISRO) Mars Orbiter Mission will lift off from the Satish Dhawan Space Centre in Sriharikota in southeast India at 2:38 p.m local time (4:08 a.m. EST, 0908 GMT).
If the mission succeeds, India will become only the fourth nation or space agency to land a probe on the red planet, after Russia, the United States and the European Space Agency.
The spacecraft will travel to Mars atop a new version of India's Polar Satellite Launch Vehicle (PSLV) rocket, a voyage that is scheduled to take 11 months and cost the country about 4.5bn rupees ($73.5m).
ISRO said the final eight-and-a-half-hour countdown has begun and all vehicle systems are switched on. It said the Second Stage (PS2) Propellant filling operations have been completed.
A live webcast of the launch will be available on the ISRO website from 2 p.m. local time onwards.
State-run Doordarshan television channel will air a live telecast of the launch from 2 p.m. local time.
For links to videos on India's maiden odyssey to Mars, the PSLV-C25 launch vehicle and Mars orbiter spacecraft integration, click here.
For an image gallery on ISRO, click here.
ISRO's official Facebook page for the Mars mission, which gives complete information about the launch, has about 40,000 likes so far.
India has said the country's first interplanetary mission to Mars, with a craft designed to orbit the red planet in an elliptical orbit, is primarily a technological mission.
ISRO said the technological objectives include the design and realisation of a Mars orbiter with a capability to survive and perform earth-bound manoeuvres and carrying out deep space communication and navigation. Its main scientific objectives are the exploration of Mars surface features, morphology, mineralogy and Martian atmosphere by indigenous scientific instruments.
While many are saying India maybe punching above its weight with the Mars mission, if everything goes well, India will have its Martian probe up and running on 24 September, 2014.
While a successful mission will give India an edge over neighbour and arch rival China, the other space powers are watching the mission with keen interest.
Scientists at the mission control centres of Nasa's Jet Propulsion Laboratory, the European Space Agency and the Japanese Aerospace Exploration Agency will monitor the launch, the Times of India reported. The US space agency NASA is launching a similar mission later in November.