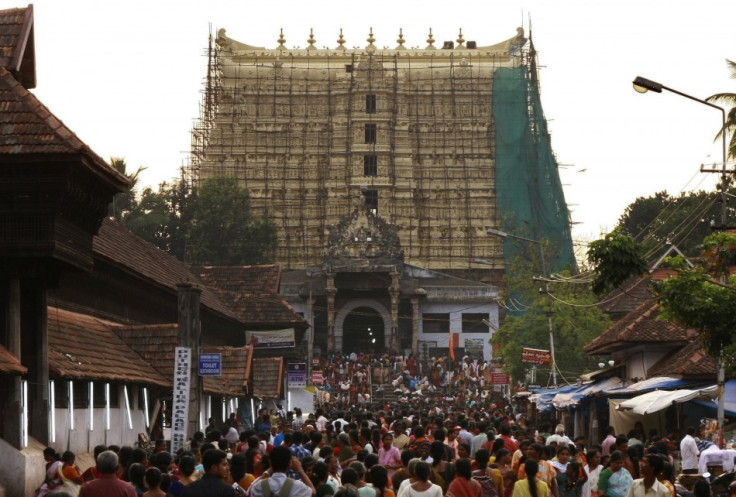 The Indian Supreme Court on Wednesday asked the Archaeological Survey of India (ASI) to examine the source and antiquity of the treasure unearthed from the Sri Padmanabhaswamy temple in Kerala capital Thiruvananthapuram.
An apex court bench of Justice RV Raveendran and Justice AK Patnaik asked the ASI to suggest the steps that can be taken to protect the treasure and also where it can be housed.
A court-ordered search of vaults beneath a south Indian temple has unearthed gold, jewels and statues worth billions of rupees, government officials said Monday.
The treasure trove, at the 16th century Sri Padmanabhaswamy temple, is widely believed to be the largest find of its kind in India, and precious stones, gold and silver, and solid-gold statues of gods and goddesses are among valuables that were found.
The riches are thought to have been languishing in the temple vaults for more than a century, interred by the Maharajahs of Travancore over time.
Unofficial estimates say that the treasure discovered so far over four days of inspections may be valued at more than 25 billion rupees ($500m). But historians say that assessing the true value of these objects is likely to be extremely difficult.
Following the amazing discovery, the Supreme Court has on Wednesday said that unearthing process of the treasure trove inside Padmanabhaswamy Temple in Kerala should be filmed as it expressed serious concern on the fight that has begun over the treasure trove.
In another preventative initiative, the apex court proposed appointment of a curator of a museum to preserve the treasure being taking away from the temple.
The court said that it will pass orders relating to conservation of the artefacts after taking opinion of experts on Friday.
It would also decide which item should be displayed in the museum and others to be kept in safe vaults and warned of serious consequences if any party starts claiming ownership over the treasure.