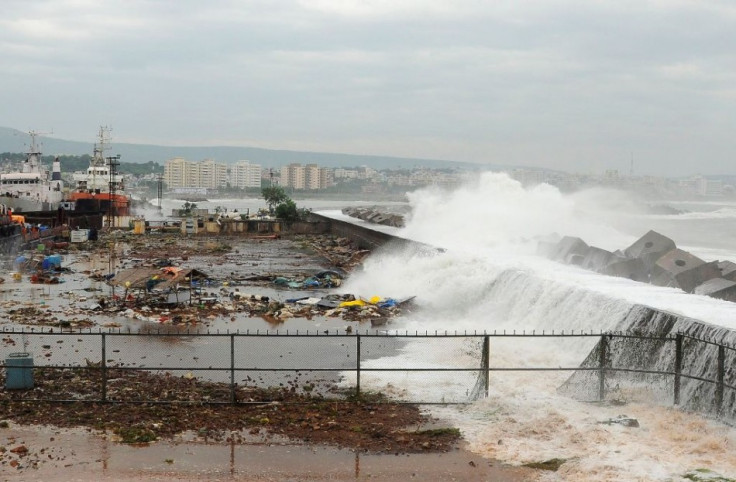 India's east coast remains on high alert as tropical storm Phailin, categorised as "very severe" by weather forecasters, is expected to hit the Odisha and Andhra Pradesh coasts on Saturday.
Rain and wind swept across the area as Cyclone Phailin advanced. The storm was about 50 miles (80km) away from Gopalpur, on the Odisha coast, the India Meteorological Department said.
Phailin is expected to bring winds of around 130mph (210kph) on landfall and is likely to cause a 3-metre surge in sea levels when it hits the coast, the met office said in a statement.
The cyclone is expected to dump "heavy" to "extremely heavy" rainfall on the states of Odisha, West Bengal and Andhra Pradesh over the next 48 hours. The next met office update will be released at 17:30 hours local time.
London-based Tropical Storm Risk classed the storm as a Category 4 'Super Cyclonic Storm', just one notch below the strongest Category 5 rating.
More than 440,000 people have been evacuated and are now camping at storm shelters, said Shashidhar Reddy, vice chairman of the India's National Disaster Management Authority.
The monster storm may be worse than Hurricane Katrina, which wrecked the US Gulf Coast in 2005, a meteorologist warned on 11 October.
"The cyclone became the equivalent of a category 5 hurricane - the strongest on the American scale - with sustained winds of 160mph (260kph). That official wind speed has tied Phailin with the devastating 1999 Orissa Cyclone which killed more than 10,000 people - currently India's strongest storm ever," said Eric Holthaus, meteorologist for Quartz, a US-based online magazine that tracks global economy-related issues.
Hurricane Katrina hit the US Gulf Coast on 29 August, 2005, causing $75bn (£47bn, €55bn) of damage.