India: World's largest solar plant that will generate 750 MW of power commissioned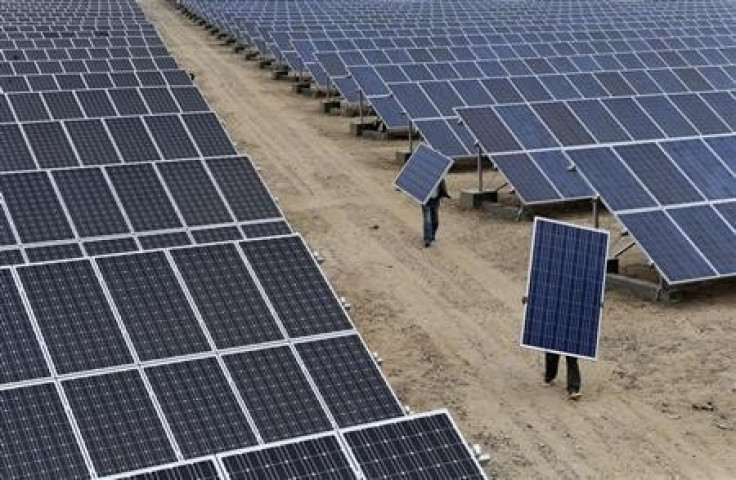 The world's largest solar power plant that will generate 750 MW of electricity once completed was commissioned recently in India.
The solar power plant in Rewa district of Madhya Pradesh state in central India will overtake America's 550-megawatt solar project in California.
The 1,500 hectares of land on which the £417m (Rs 40bn) plant will come up is barren. It is hoped to be completed by August 2016.
The joint venture agreement between state-run PSU Urja Vikas Nigam and Solar Energy Corporation of India will invite tenders from developers by April.
In a bid to move to clean energy, India plans several ultra mega solar power projects in its states of Rajasthan, Gujarat, Madhya Pradesh and Jammu and Kashmir.
The renewable energy ministry has proposed a gross budgetary support of £422m (Rs 41bn) for setting up 25 solar parks of 500 MW each and ultra mega solar power projects to add 20,000 MW green generation capacity in the next five years.
The country plans to install 100 GW capacity of solar power by 2022, a five-time increase from a previous target.
In comparison, China aims to achieve 100 GW of solar power capacity by 2020.
Solar parks with installations of multiple solar photovoltaic modules by various firms are expected to reduce costs owing to economy of scale. Smaller parks are also considered where tracts of contiguous land is difficult to acquire.
Problems of transmission in the country with losses of almost 24% and constraints in taking electricity to remote areas have seen solar power getting a boost.
India's renewable energy sector is looking at attracting $200bn in investments from several domestic and international firms.
While the country's plans to expand solar energy 30-fold to 100,000 MW in seven years could create many new jobs, the demand for huge chunks of land cumulatively larger than some of its metros has seen experts advocate a mix of large, medium and rooftop solar plants.
The global installed capacity of solar electricity has increased by six times between 2010 and 2013 to 135 GW from 23 GW.
© Copyright IBTimes 2023. All rights reserved.