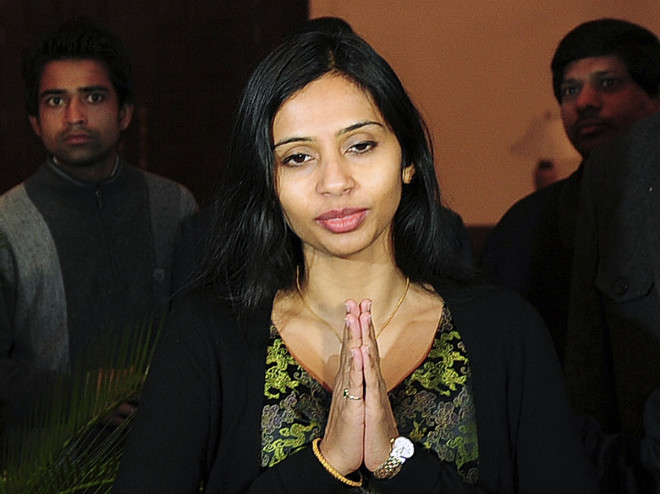 A grand jury in the US has re-indicted Indian diplomat Devyani Khobragade in the much-publicised "visa fraud" case which had led to several retaliatory measures from India and severely strained relations between the two countries.
Khobragade has been charged with underpaying her Indian maid Sangeeta Richards and making false representations to US immigration about her maid's salary in the US by having two different remuneration contracts with her.
The diplomat reportedly provided evidence to refute the charge.
The 21-page indictment, filed by Indian-born US Attorney Preet Bharara, claims that Khobragade "illegally" underpaid and "exploited" her domestic maid, even as an arrest warrant was issued against the diplomat.
"An arrest warrant was also issued today. The government will alert the court immediately upon the defendant's arrest so that an appearance before Your Honour may be scheduled. At present, the defendant is believed to be in India," Bharara said in a letter to William Pauley, a US district Judge.
The new indictment comes just two days after another US judge had acquitted her on grounds of diplomatic immunity.
US District Judge Shira Scheindlin in Manhattan had pronounced that "even if Khobragade had no immunity at the time of her arrest and has none now, her acquisition of immunity during the pendency of proceedings mandates dismissal."
"The government may not proceed on an indictment obtained when Khobragade was immune from the jurisdiction of the court," Scheindlin had written in her statement.
Judge Scheindlin did not, however, bar the prosecution from bringing new indictments against Khobragade on the very allegations she was acquitted of.
James Margolin, a spokesman for Bharara, had said that they "intend to proceed accordingly" to bring in indictment for Khobragade's "criminal conduct".
The Indian government is upset over the re-indictment. Syed Akbaruddin, spokesman for the Indian external affairs ministry pointed out that US has no jurisdiction over her in India, and the government will no longer engage with the US legal system on the case.
Akbaruddin told reporters: "This was an unnecessary step. Any measures consequent to this decision in the US, will unfortunately impact upon efforts on both sides to build the India-US strategic partnership, to which both sides are committed."