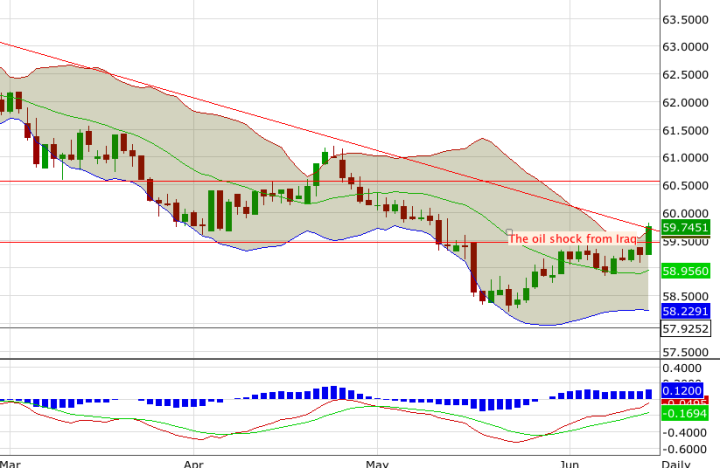 Indian rupee plunged to a one-month low on 13 June as worsening oil supply concerns threatened to raise Asia's third largest economy's import bills.
However, analysts expect the currency to rebound given the fundamental strength of the economy, especially with a stable central government which has clearly sounded its readiness to push forward market friendly reforms and attract more foreign inflows.
"The fall in rupee due to the geopolitical situation is a temporary blip," NS Venkatesh, Executive Director and Head of Treasury at IDBI Bank, told IB Times UK.
If monsoon rains don't disappoint as feared and the budget shows fiscal consolidation, rupee has more reasons to strengthen, Venkatesh said.
Rupee fell to 59.77, its lowest since 13 May, and from Thursday's close of 59.24. Rupee has weakened around 2.6% from the 22 May level of 58.22, which was an 11-month high for the currency.
It was on 16 May that the two-term United Progressive Alliance-led government lost its electoral battle for a third consecutive term, leading Narendra Modi-led National Democratic Alliance government to the power.
Technical analysis shows USD/INR has just broken the Bollinger upper band with Friday's jump (in the pair) but the overall downtrend since August last year is almost intact.
"Technical analysts see USD/INR around 56.00 but I expect the Reserve Bank of India to come in and buy dollars near 58.00 to keep the rupee weak to help exporters," a senior official at a private bank told IB Times UK.
"Also, there has been huge inflows around the time of the change of guard in Delhi, and a good chunk of that is likely to be withdrawn as part of position adjustments or profit taking," he said. He predicted a band of 58-61 for USD/INR for medium term.
In late August last year rupee fell to its weakest point ever, at 69.13, and has rallied more than 18% to the 22 May peak.
IDBI Bank's Venkatesh sees a more rosy picture of foreign inflows.
"We see more inflows coming in the near term. If not to equities, to the debt segment. Already the FII limit in government debt has been fully subscribed and no the foreign demand for corporate debt is increasing," he said, adding that until around 52-53 level of USD/INR, there will be no threat for exporters.
He doesn't expect Iraq crisis to push USD/INR above 60.50 and he too puts the pair in a broad band of 58-61 in the near term.