Apple's fifth generation iPad featuring 9.7in Retina display in a thinner and lighter design is now available for purchase starting at £399 for the 16GB Wi-Fi model. Known as iPad Air, Apple' new iPad comes with the latest technologies such as 64-bit A7 chip, ultrafast wireless with faster built-in Wi-Fi and LTE connectivity and the newly-designed iOS 7.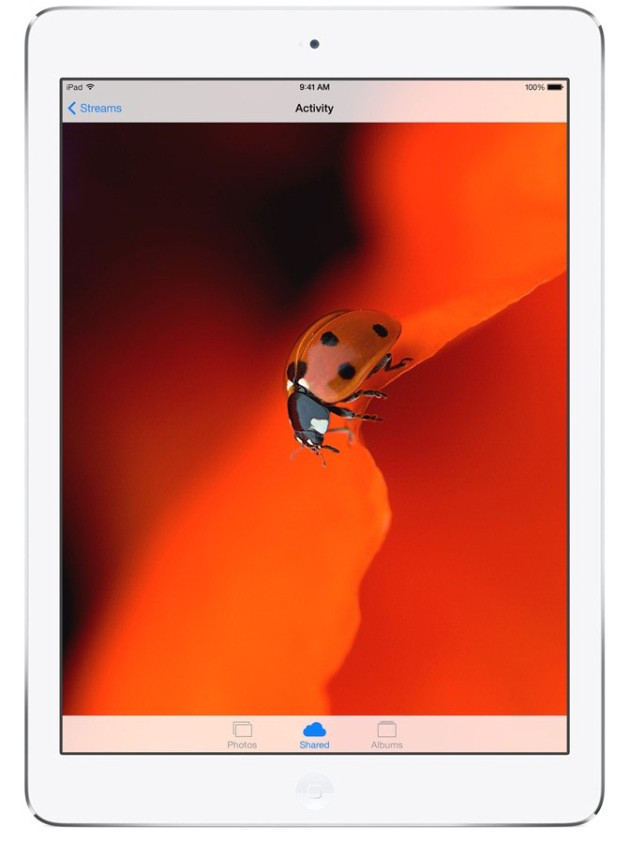 The iPad Air beats its predecessor not only with its great tech features but also in terms of battery performance, which is revealed in a series of tests conducted by AnandTech.
The iPad Air runs with a 32.4 watt-hour (Wh) battery, which is a significant decrease from the 42.5Wh units used in the third and fourth generation iPads. But the smaller battery size does not compromise performance with Apple claiming 10 hours of battery life.
In the web browsing test over Wi-Fi, the iPad Air lasted for exactly 10 hours of continuous usage, while occupying the third place in the list. This is an improvement when compared to the iPad 4, which stayed for 9.480 hours in the same test. Besides, the LTE version of iPad Air performed equally better in web browsing test with battery life just under 10 hours (9.920 hours) of usage. This means the Wi-Fi and LTE versions delivered almost similar battery life in the web browsing test.
Nvidia Shield game console by Nvidia and Google's new Nexus 7 2013 model grabbed the first and second place in the web browsing battery test. However, the new iPad Air was ahead of all its rivals such as iPad 4, iPad mini, iPad 3, Microsoft Surface 2 and Galaxy Tab 3 8.0.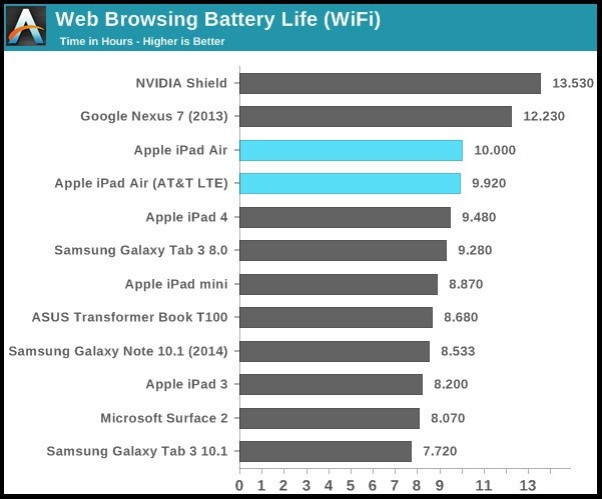 In the video playback test, which was on 4Mbps H.264 High Profile 720 rip, the iPad Air again retained the third position with a battery life up to 13.63 hours. There is a marginal difference between the video playback life of the iPad Air and iPad 4 (which lasted for 13.45 hours). Nvidia's game console was the winner once again in the battery test for video playback.
The iPad Air showed a substantial improvement in battery life over its predecessor in the 3D battery test as well. The iPad Air ran up to 7.070 hours in the 3D battery test and the iPad 4 up to 5.930 hours. The iPad 2,4 (uses A5 SoC, Wi-Fi ) was the winner in the test with 3D battery life for 8.650 hours.
The iPad Air comes with a 12W USB charger and lightning cable, first introduced in the iPad 4. The iPad Air takes slightly more than four hours for a complete battery charge whereas the iPad 3 needs six hours and iPad 4 5.69 hours.