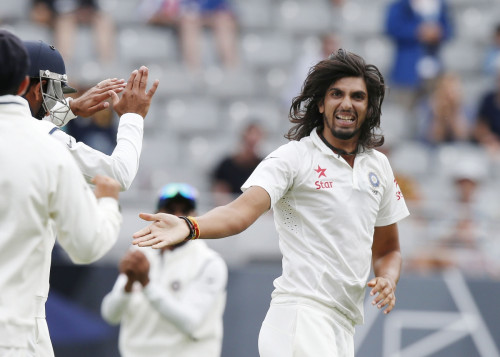 Much has been discussed about India's bowling lineup which once boasted names like Javagal Srinath, Venkatesh Prasad and Kapil Dev to name a few. In the wake of such legends, today's battery of pacemen have a lot to live up to.
One such player was Ishant Sharma, who at the age of 18 achieved his first cap as an Indian cricketer following an injury to Munaf Patel in May 2007 during India's tour of Bangladesh. However, the first scintillating performance was not to come until towards the end of the year against Australia.
IBTimes UK takes a look at the 6'4" tall fast bowler who is currently in the best form of his life, ripping through the New Zealand batting order down under.
Profile
Born in Delhi on 2 September, 1988, Sharma had serious intentions of pursuing a career in Cricket at the age of 14. Climbing through the ranks of the India Under-19 team, the 25-year-old made his first class debut for Delhi in the Ranji Trophy in 2006. His tall posture brings forth the ability to get balls to rear at batsmen at a searing pace.
Yet despite his obvious talent and range of assets, Sharma has never managed to maintain his momentum at the international stage for India and has repeatedly been in and out of the national side.
In the limited-overs sphere, Sharma's stand-out moment was arguably his signing by Kolkata Knight Riders for a whopping $0.95m during the inaugural Indian Premier League (IPL) in 2008, the highest for an Indian bowler in the tournament.The 25-year-old will now be a part of the Sunrisers Hyderabad squad for this year's IPL.
Sharma has struggled to make an impact in T20 International matches for India, appearing only in 14 matches so far. His recent bowling displays against Australia have gone down in cricket folklore - for all the wrong reasons.
The visitors needed 44 runs from 18 deliveries, but James Faulkner stood firm for his country to smash 30 runs from the next six deliveries bowled by Sharma to swing the game in his side's favour.
Sharma was dropped for the remaining matches in the One Day International series against New Zealand after conceding 118 runs in just 15 overs during the first two matches, with just two wickets to his name.
Form of his life
Despite Sharma's erratic performances, the BCCI has persevered with him - and now they are being rewarded in spades.
Although the Kiwis racked up 503 runs in the opening innings of the first test, Sharma proved his worth by securing six crucial wickets including that of Corey Anderson and rival skipper Brendon McCullum who were among the stellar performers at Eden Park.
Sharma took three wickets in the second innings, helping MS Dhoni's side to restrict the home team to just 105 - only for India to finish 40 runs short of their victory target.
Yet the second test has started far better for the tourists, and once again Sharma has been pivotal. In the first innings he took another six-for to dismiss New Zealand for 192, taking his total to 15 wickets in less than one-and-a-half tests.
India are due to tour England this summer, where conditions are likely to be similar to those in New Zealand. Sharma bowled well during India's last visit to England, particularly in the second innings at Lord's, where the slope allowed him to dart the ball back into the right-handers at speed. India were routed in that series, but, if Sharma maintains his current form, they will be a far more dangerous proposition this time round.