Scotland Yard has raided an East London home after Turkey arrests a young British woman suspected of seeking to join the Islamic State (IS) insurgents in Syria, IBTimes UK can reveal.
The unidentified 21-year-old British woman was arrested at the Turkish capital Ankara's central bus station, from where it is thought she would travel to Syria and join the jihadist group.
She was sent to Istanbul on Thursday 19 March morning to be deported to Britain after being questioned by police in Ankara, Turkish authorities confirmed on Thursday morning.
Police raid East London home
'We are liaising with the Turkish authorities. Officers were earlier this week at an address in East London under Schedule 5 of the Terrorism Act,' a Scotland Yard spokesperson told IBTimes UK.
The Schedule 5 of the Terrorism Act empowers magistrates to authorise police to enter and search specified premises and to confiscate personal property.
The UK Foreign Office confirmed the woman's detention in Ankara, and said it is providing her with consular assistance, a spokesperson told IBTimes UK.
Multiple arrests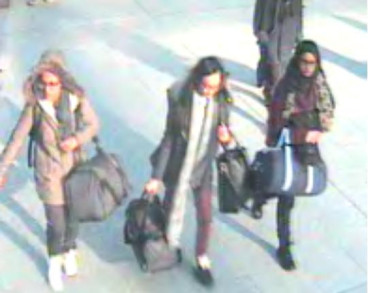 The young women's arrest comes after Turkey arrested three male teenagers at an Istanbul airport suspected of seeking to join jihadist fighters in Syria.
Two boys aged 17 from north-west London and a man aged 19 were returned to the UK on the night of Saturday 15 March, and were arrested by Scotland Yard.
They were arrested on suspicion of preparing terrorist acts and have been released on bail.
Turkey has stepped up border security in the face of Western criticism that it is not doing enough to prevent transit of foreign fighters across its volatile border.
But the recent success of British and Turkish authorities in arresting these teenagers contrasts with the failure to stop three British girls - Kadiza Sultana, Shamima Begum and Amira Abase, reaching Syria earlier in February.