The Islamic State (Isis) has executed six men for defying their brutal interpretation of Sharia Law and selling cigarettes in their self-declared caliphate. The extremists have also maimed an accused thief for life by chopping off his hand in front of a crowd in Syria.
In their latest video Daesh (Isis) show a man being forcibly held whilst a huge cleaver is placed on the visibly stressed man's hand. Then a heavy metal bar is slammed on top of the blade slicing the alleged thief's hand in two.
Previous Isis propaganda videos have featured child executioners, men being thrown off buildings for being gay, beheadings and other gruesome acts. The medieval hand-chopping punishment featured in a video published last month entitled "The Voice of Virtue in Deterring Hell" where a man is seen having his arm amputated for stealing.
Meanwhile in Mosul, in neighbouring Iraq, six men were executed for selling cigarettes. While cigarettes are permitted under Islam the severe interpretation of Sharia law by Isis means smoking is seen as a "slow suicide" and thus forbidden in the caliphate.
According to ARA news, but not independently verified by IBTimes UK, a media activist in the city said: "The ISIS-led Islamic Police of Hisba arrested six men in Mosul on charges of selling cigarettes. They were then referred to the Sharia Court which ordered their immediate execution on Wednesday on charges of violating the rules imposed by their alleged Caliphate."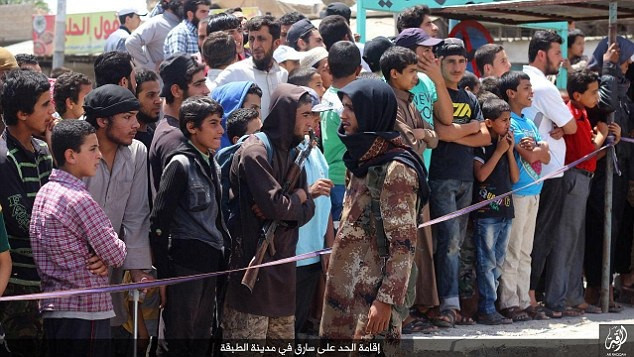 The website added that the men were taken to a main square in Mosul before being executed by firing squad in front of a crowd. The source continued: "Hundreds of people witnessed the brutal execution. The victim's corpses were then moved to the al-Tib al-Adli hospital in Mosul."
On 1 June a new video purportedly released by Isis shows footage of the ongoing combat in "Wilayat Dijlah," or Iraq with American troops being shot and killed. Entitled "The Epic Battle of Steadfastness" images mocking the US are also shown, particularly of soldiers at a national cemetery.