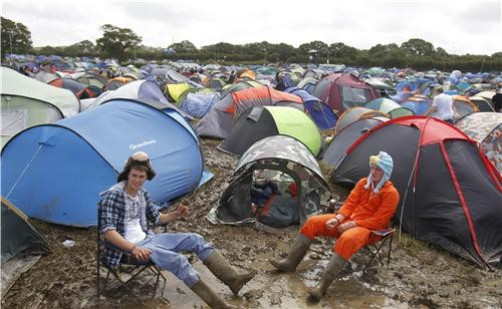 Hundreds of revellers heading to the Isle of Wight Festival were forced to sleep in their cars as traffic gridlocked after heavy rains turned the site into a mudbath.
Ferry companies were forced by long queues to suspend services and about 600 people were stranded on Wightlink ferries on the Solent.
Heavy rain waterlogged car parks at Seaclose Park, Newport, and tonnes of mud was churned up as cars arrived.
Organisers were urging anyone still waiting to get to the island to leave their cars. They opened fields and brought in metal tracks so vehicles could be directed to overflow car parks.
A festival spokeswoman said: "If you are on the mainland we are advising people not to travel by car.
"There is a ferry service for foot passengers and this will be the easiest route."
In an interview with BBC Radio Solent, promoter John Giddings apologised for the disruptions.
"I am doing everything in my power and the police are telling me to do everything in my power, because they want an emergency plan from me by Sunday about how we are going to get people out," he said.
Some 65,000 people are expected to flock into the island, which has a population of just 140,000.
Festival headliners are Pearl Jam, Tom Petty and the Heartbreakers, and Bruce Springsteen and The E Street Band.
The Big Top stage was evacuated on Thursday because of heavy wind and rain.