Now you can enjoy a great coffee and smell the beans even in space after an Italian coffee company built the first so-called "zero-gravity" coffee machine for astronauts.
The ISSpresso – an amalgamation of the words, International Space Station (where the machine will be installed) and espresso - will be sent to space with Italian Air Force Captain Samantha Cristoforetti during the Futura Mission this autumn.
It will be the second long-term mission of the Italian Space Agency (ISA) aboard the Space Station.
The coffee machine was created by Lavazza - a renowned coffee company in Italy - with the collaboration of engineering company Argotec, which develops food solutions for the ISS, and the ISA.
ISSpresso weighs 20kg and is able to handle 400 bars of pressure.
The tubes that shoot water through the coffee are made of steel instead of plastic, to avoid any risk of explosions.
ISSpresso does not grind its own beans, but uses a capsule system.
The machine, which also makes tea, dispenses the beverages into a plastic pouch, so that the liquid is not dispersed in the air, due to the absence of gravity. Astronauts will have to drink the brew by using a straw.
According to Lavazza, the ISSpresso is a "scientific, engineering and flavouring challenge to offer space mission astronauts an authentic Italian espresso".
Lavazza started thinking about a space coffee machine when Italian astronaut Luca Pometano said the only thing he missed in space was a good coffee.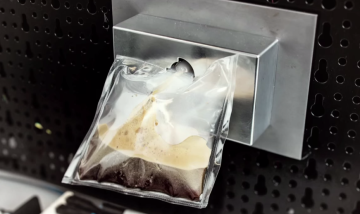 According to Lavazza's vice-president, Giuseppe Lavazza, the machine was created thanks to "our will to accept new challenges and show our competence, which allows us to create even those products that seem impossible to build".
"We have been thinking about taking the espresso into space for some time. Indeed, as far back as ten years ago we launched the espresso into orbit artistically with the photographs taken by Thierry Le Gouès, which at the time may have looked like a work of science fiction but was actually just a vision of the future," he continued.
"Today we are in a position to overcome the limits of weightlessness and enjoy a good espresso — the indisputable symbol of made in Italy products — on board the International Space Station."
Roberto Battiston, President of the ISA said, "ISSpresso is a perfect example of the way ISA's decision to make ISS national usage rights available to public-private partnership initiatives can result in a valorisation of public resources for technological, economic, and social objectives."