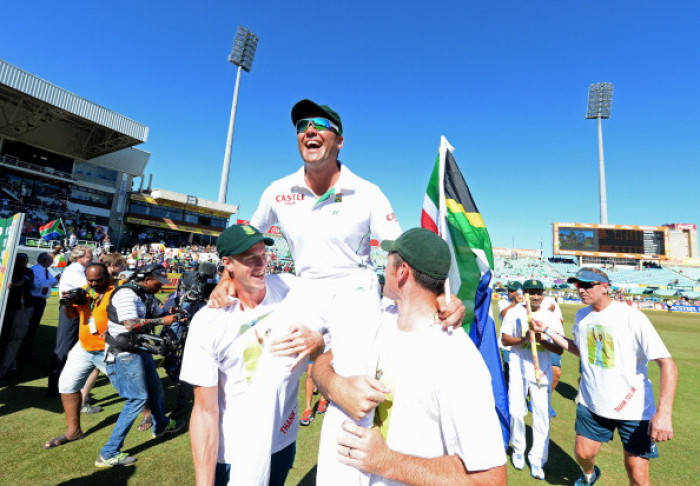 Jacques Kallis has retired from all formats of international cricket after announcing he will not be able to compete at the 2015 World Cup in Australia and New Zealand.
The 38-year-old, considered by some to be the greatest all-rounder in the history of cricket, retired from Tests in December and hoped to prolong his one-day career until next year's tournament.
But after a poor run of form in South Africa's ODI tour of Sri Lanka, in which he scored 0,1 and 4 in the three matches, Kallis has decided he will not make the competition and has retired.
The decision could come as a relief to South African selectors: Kallis has only made one 50 in seven matches since returning to the international fold in 2013.
"I realised in Sri Lanka that my dream of playing in a World Cup was a bridge too far," he said. "I just knew on that tour that I was done. The squad that was in Sri Lanka is an amazing one and I believe they have a good chance of bringing the trophy home in March.
"I would like to thank Cricket South Africa, the team, the team sponsors, my sponsors, the fans and all the people who have been involved in my career. It has been an amazing journey. I am not retiring from all cricket as I have a two-year contract with the Sydney Thunder and, if possible, to help the Kolkata Knight Riders defend the IPL title we won earlier this year."
Althought Kallis will never again pull on a Proteas jersey he will still compete in the upcoming Australian and Indian T20 competitions for Sydney Thunder and Kolkata Knight Riders respectively.
The cricketing world has been paying its repects to Kallis, the only player who has scored more than 20,000 runs and taken more than 500 wickets in all formats of the sport.