Apple has mysteriously begun censoring the word 'jailbreak' in its US iTunes Store listings, raising questions over Apple's long-standing dislike of users who jailbreak their iPhones and iPads.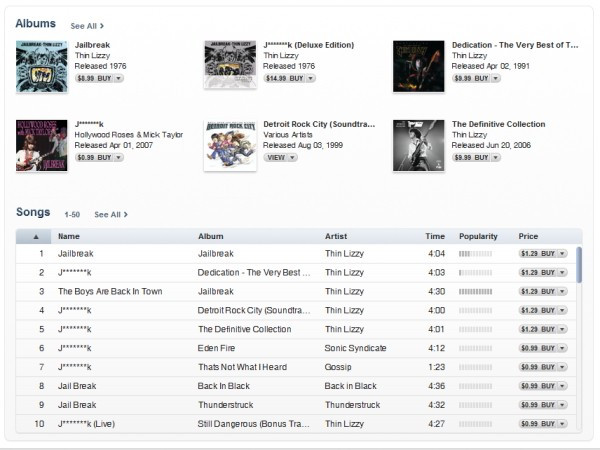 The term jailbreak is commonly used to describe the process of unlocking an iOS device so that it can run applications that are not available on Apple's own App Store. See our in-depth guide to jailbreaking for full details.
IBTimes UK can confirm that 'jailbreak' is not yet censored in the UK iTunes Store, but many American users of the popular Apple forum MacRumors are reporting widespread censoring of the term throughout the iTunes Store.
One suggestion is that Apple is attempting to censor the term from appearing in the App Store and podcasts, but has inadvertently applied the block to all items in the store.
One of the most popular songs to be affected by the censorship is Jailbreak by Thin Lizzy, which has been reduced to J*******k, along with TV episodes of the same name.
The issue was first reported by iOS hacker 'Planetbeing' and then reported on by Shoutpedia, which noted: "All the categories are affected with this filter including apps, songs, albums, podcast episodes, and iTunes U episodes. One of our readers told us that this filter is also blocking the term even in iBooks."
Apple has long been opposed to jailbreaking iOS devices, with Steve Jobs once referring to the never-ending battle between its developers and jailbreakers as "a game of cat and mouse".