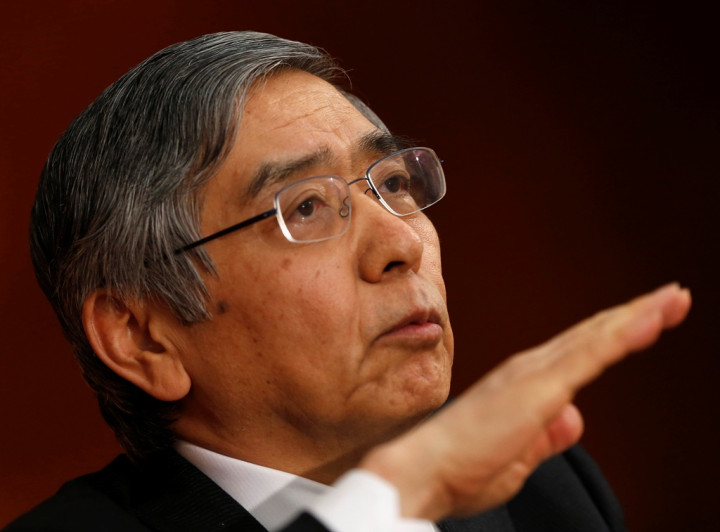 Japan's improvement in the output gap and rise in inflation expectations are expected to continue, helping reach the inflation target in the first half of 2015, Bank of Japan Governor Haruhiko Kuroda has said.
The yen continued its downward move after the speech, the USD/JPY pair rising to 107.32 from near 107.20. The pair is not far away from the six-year high of 107.41 touched last week.
"The year-on-year rate of increase in the CPI, which is likely to be around 1.25% for some time, is expected to subsequently follow an uptrend again from the second half of this fiscal year and reach about 2% around the middle of the current projection period from fiscal 2014 through 2016," Kuroda said at a business leaders' meeting in Osaka.
The Japanese government's financial year runs from 1 April to 31 March.
Kuroda agreed that the country is only halfway there, and added that the bank will continue its QQE (qualitative and quantitative easing) programme, aimed at achieving the price stability target.
"If the outlook changes due to the manifestation of risk factors and it is judged necessary for achieving the price stability target, the bank will make adjustments without hesitation," the central bank chief said.
The consumption tax hike has affected real income in Japan but its effects on household spending might be mitigated by sustainable fiscal conditions and the social security system, Kuroda said.
The consumption tax hike was scheduled in advance, and it is not an additional factor putting downward pressure on economic activity and prices, he said.
Kuroda said Japan is on a path of moderate recovery helped by the QQE programme introduced last April.
The 7.1% fall in real GDP in April-June followed the front-loading of demand in the January-March quarter, in which real GDP had grown at a rate of 6.0%.
Kuroda said the employment situation is expected to maintain its improving trend, exerting further upward pressure on wages.