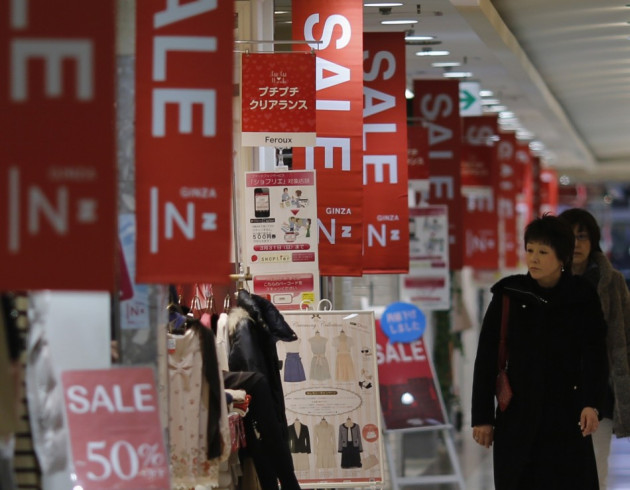 Japan's core consumer prices fell for the second consecutive month in December and marked the fourth straight annual dip, confirming deflation concerns and paving way for further stimulus pressure on Bank of Japan.
The core Consumer Price Index (CPI), excluding fresh-food prices, fell 0.2 percent year-on-year in the month, taking the annual drop to 0.1 percent, according to the Japanese Finance Ministry. This was in line with separate forecasts from Dow Jones and Reuters. The index was down 0.1 percent over the November.
The weak figures came as the Japanese government and BoJ looked to initiate strong measures to boost inflation rates. Stubborn deflation has hurt the country's economy in the recent years.
Early this week, BoJ, under pressure from the government, doubled its inflation target to 2 percent and took up open ended asset purchasing plans to meet it. On its part, the government has approved 10.3tn yen ($116bn, £73bn) stimulus package with the aim to lift Gross Domestic Product (GDP) by 2 percent and create about 600,000 jobs.
Stimulus hopes have pushed the yen down to record levels against the dollar in the recent weeks. The latest inflation figures have sparked fresh aid optimism, weakening the yen to its lowest level since June 2010 against the dollar early in the day.
The central bank had said this week that it expects consumer prices to ease 0.2 percent in the current fiscal year, before picking up 0.4 percent in the year starting April.
"Upward pressure on prices was weak in December, but we can expect price declines to narrow as the yen has weakened and this will eventually push up oil and gasoline prices," Shuji Tonouchi, senior fixed income strategist at Mitsubishi UFJ Morgan Stanley Securities told Reuters.
"The BOJ's additional easing won't start until next year, but we could see the BOJ consider some new steps once the government appoints the next BOJ governor and deputy governors."
Persistent deflation and weak external demand has pushed the Japanese economy technically into recession. Earlier this week, the country posted a record annual trade deficit for 2012, but Japanese manufacturers remained optimistic that conditions would improve in the coming months, according to a Reuters poll.
Analysts suggest that the economy could grow at about 1.8 percent in the coming fiscal year as the spending plans and asset purchase measures kick in. However, they add that the impact of stimulus measures will be short-lived unless government takes up appropriate reform measures.