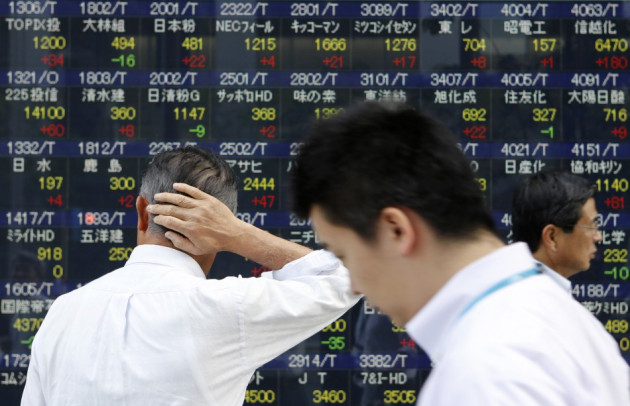 Asian markets opened mixed on Monday with the Japanese Nikkei shedding over 2% by the midday break following selling on Wall Street on 31 May and with investors trying to make sense of the disparity in two sets of data on Chinese factory activity.
The Nikkei was down 3.3% or 449.92 points to 13324.62, owing to a stronger yen and also after government data showed that capital investment spending by Japanese firms fell 3.9% in the first three months of 2013, as compared to a year ago.
Official data from China on 1 June said manufacturing activity in the country rose to 50.8 in May from 50.6 in April. But a HSBC survey of purchases made by factory managers showed the country's PMI fell to 49.2 in May from 50.4 in April. A reading below 50 indicates a contraction in manufacturing activity, suggesting the world's second largest economy has slowed down.

China's Shanghai composite index inched up 0.26% or 5.99 points to 2306.59, while the Hang Seng added 0.34% or 76.91 points to 22469.07.
Australia's S&P/ASX was down 0.43% or 21.40 points to 4905.20.
South Korea's Kospi shed 0.26% or 5.14 points to 1995.91, pulled down by HSBC's PMI reading for May, which showed that the South Korean PMI was down to 51.1 from 52.6 in April.
On 31 May, the Dow dropped 1.4%, its steepest fall since mid-April. The S&P 500 index too lost 1.4%, while the Nasdaq Composite lost 1%. The Wall-Street selling was partly fuelled by the uncertainty over the pace of the Federal Reserve's rollback of its asset buys.
In Japan, shares of Sharp tumbled 7.6%, while Fast Retailing's stock plunged 5.7%. Subaru-maker Fuji Heavy Industries slipped 3.6% and Mitsubishi Motors lost 3.1% even after the European media reported that French automobile firm Renault was exploring the option of a collaboration with the Japanese firm.
In South Korea, Hyundai Motor was down 0.5%, while Kia Motors lost 0.3%. Steel maker Posco was down 0.5%.
In Hong Kong, China Construction Bank inched up 0.5%.On the mainland bourses, Gemdale rose 2.8%, while China Vanke added 1.6%. Citic Securities gained 1.2%. China Resources Land moved up 2.9%, while China Overseas Land & Investment added 1.7.
Resource-sector stocks fell after gold and crude oil prices dropped Friday.
In Sydney, mining giant BHP Billiton lost 1.8%. Rio Tinto's stock was down 1.7% after Dow Jones Newswires reported that Anglo-Swiss miner Glencore Xstrata and private-equity firm Blackstone Group were vying to acquire Rio Tinto'ss Canadian iron-ore operations.
Engineering consultancy WorleyParsons, which focuses on the resources and energy sector, was down 1.4%.