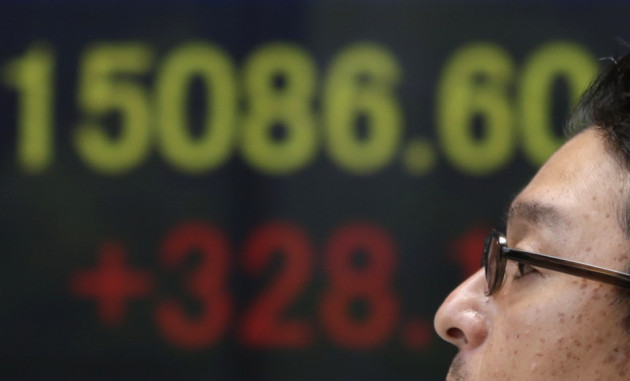 Asia markets remained mixed on a day when Japanese stocks shot up to a new 5-1/2 year high as exporters' stocks rallied on continued yen weakness.
Japan's Nikkei average soared 2.3% or 338.55 points, to 15,096.07, while South Korea's Kospi slid 0.2% or 3.73 points to 1,965.10.
In Australia, the S&P/ASX 200 declined 0.8% or 41.80 points to 5,179.20.
China's Shanghai composite index was down 0.1% or 2.43 points to 2214.58, while Hong Kong's Hang Seng gained 0.3% or 79.63 points to 23,009.91.
The US dollar moved past the 102 yen mark, hovering closer to its 52-week high of 102.43 yen. This helped Japanese exporters in the morning trade. The rally helped the Nikkei breach the psychological 15,000 mark, a first in over five years.
In Hong Kong, real estate and financial companies' stocks gained after the US stocks posted record gains overnight. On Wall Street, stocks jumped after investors resorted to hectic buying of large-cap shares, fuelled by expectations that the Federal Reserve's stimulus package will bolster the economy and the markets.
In Tokyo, shares of Sony Corp soared 12% after billionaire hedge-fund manager Daniel Loeb suggested the company hive-off its entertainment business.
Renesas Electronics rose 4.7% and Subaru-maker Fuji Heavy Industries gained 3.5%. But consumer goods maker Sharp dropped 7% on reports that it would replace top executives after it posted the biggest loss in its history.
In Hong Kong, logistics player Li & Fung jumped 7.4% after a news report quoted the firm's chairman as saying that this year's earnings would rebound to 2011 levels.
Bank of China and Industrial & Commercial Bank of China both gained 1.3%. Realty firm China Resources Land rose 1.3%, while Sun Hung Kai Properties gained 1.7%.
Mining shares is Australia fell after losses among prices for resources. Newcrest Mining was down 1.2%, while BHP Billiton declined 0.9%. Rio Tinto dropped 1.4% following a ratings downgrade by Barclays to equal weight from overweight.