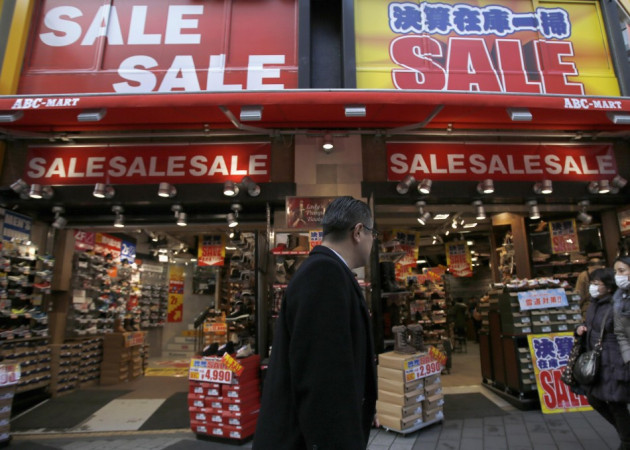 Japan's retail sales increased at a slower pace in December compared to the previous month, underscoring the weak consumer sentiments in the country.
According to Japan's Ministry of Economy, Trade and Industry, sales increased 0.4 percent year-on-year in the month, down from the 1.2 percent rise registered in November. This was more than the 0.3 percent estimated by a Reuters analysts' poll. Sales were up 0.1 percent on a month-on-month basis, against expectations of a 0.4 percent increase.
Sales at large retailers remained little changed year-on-year, after the 0.9 percent gain a month ago.
Sluggish domestic consumption and weak external demand has been some of the major issues that have plagued Japan in the recent months, pushing the country into a technical recession. The country's gross domestic product (GDP) contracted 3.5 percent year-on-year in the third quarter. A Bloomberg poll showed that growth could have further shrunk 0.6 percent in the three months ending December.
"There are few positive signs for private consumption," Yoshimasa Maruyama, chief economist at Itochu Corp. (8001) in Tokyo, told Bloomberg before the report.
"Employment and income conditions aren't improving much as wages aren't rising."
According to Bloomberg which cited a report from Keidanren, a Japanese business lobby group, wages have dropped for the third straight month from the previous year in November and large firms have cut winter bonuses by 2.95 percent in 2012 to 778,996 yen.
But things are seen to be improving as the country's newly elected government promises aggressive monetary stimulus measures. The administration had, early this month, announced a stimulus package worth 10.3tn yen to boost GDP and improve the labour market. Following this, the Bank of Japan hiked its inflation targets and decided to adopt open ended asset purchase programme to shore up the economy.
The government plans to consider further measures that could retain the yen at low levels against its peers and aid growth.