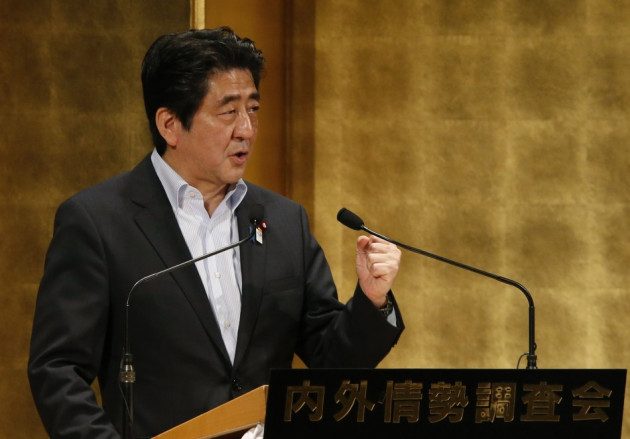 Japanese Prime Minister Shinzo Abe said the country will set up special economic zones to attract foreign investment and boost per capita income by 3% per year over the next decade.
He would also urge pension funds to undertake riskier investments such as equity and foreign assets as part of his growth strategy for the world's third-biggest economy.
"I think the most important target to achieve is per capita gross national income," Abe said in a speech on Wednesday.
"That's because the aim of our growth strategy is nothing other than to create jobs for enthusiastic people and raise take-home pay for those who are working hard."
The measures are part of the final arrow of Abe's "three arrows" strategy targeting to pull the country out of 15 years of deflation and spur economic growth. The first two arrows of the strategy dubbed "Abenomics" involved aggressive fiscal and monetary stimulus from the government and the central bank.
Since his appointment, Abe has unveiled a number of fiscal measures to boost economic growth. In addition, Bank of Japan (BOJ) Governor Haruhiko Kuroda, who was appointed on the strong recommendation of Abe, has pledged to achieve a 2% inflation target in two years. In order to reach the target, the central bank had unleashed an aggressive stimulus programme in April, promising to inject $1.4tn (£923m/€1bn) into the economy.
The third arrow of the strategy involves long-term structural changes to boost income and employment, which Abe considers vital in fighting against deflation.
The special economic zones are planned to be created in Tokyo and other big cities in the country. They would be allowed to introduce corporate tax cuts and ease regulations to attract businesses.
Further, the government would fully liberalize the retail electricity market and aim to boost power related investment to 30tn yen ($300bn) over the next 10 years.
The nation's public pension funds have total assets worth $2tn under management. The higher investment in equities and overseas assets by the funds, which have relied heavily on government bonds, is expected to support the growth strategy.