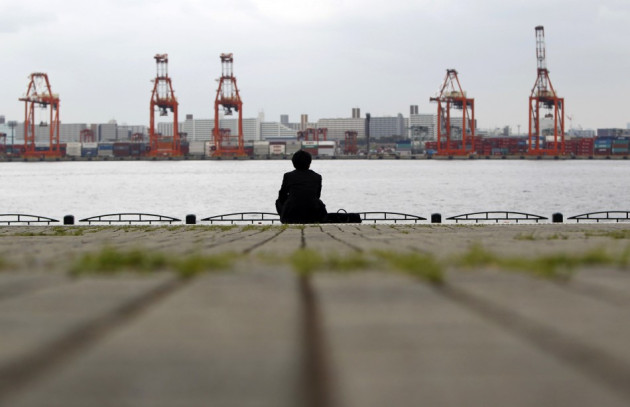 Japan's exports rose more than expected in May due to the yen's weakness, but increased imports have resulted in the country posting a trade deficit for the 11th straight month.
The Japanese Ministry of Finance said the value of exports rose 10.1% to 5.77tn yen ($61bn/£38bn) in May on a year-on-year basis. The pace of increase, which was the highest since 2010, exceeded the 6.4% pace estimated by economists surveyed by Bloomberg.
The export data reflects that the recent slide in the yen against the dollar is benefiting Japanese manufacturers. The persistent weakness of the yen is boosting exporters profit when they repatriate money back home.
Meanwhile, the country's imports also surged 10% to 6.76tn in May, resulting in a widened trade deficit of 993.9bn yen, though better than economists' expectations for a 1.2tn yen trade deficit.
The weakening of the yen has pushed up costs for imports of crude oil, natural gas and other commodities into Japan, which has been suffering from energy scarcity following the Fukushima Daiichi nuclear disaster in 2011.
Nevertheless, export volume fell 4.8% in May from a year earlier and import volumes declined 2.4%.
Amongst the country's major trading partners, exports to the US rose the most in a year, jumping 16% by value from a year earlier on increased motor vehicle shipments. Exports to China increased by 8.3% in May, the most since February 2011. Sales to the European Union declined 4.9%, a decline for the 20th straight month.
Japan's economy grew an annualized 4.1% in the first quarter thanks to Prime Minister Shinzo Abe's pro-growth policies. Though aimed at stopping deflation in the country, the policies are still to be proved effective.
The worries about reduced stimulus from the US Federal Reserve have caused extreme volatility in the Japanese financial markets over the past few weeks. In addition, a recent package of structural reforms by the Japanese government failed to boost investor confidence. As a result, the yen bounced back from its 4.5-year low against the dollar.
The economy is forecast to expand 2.9% in the second quarter, according to economists polled by Bloomberg.