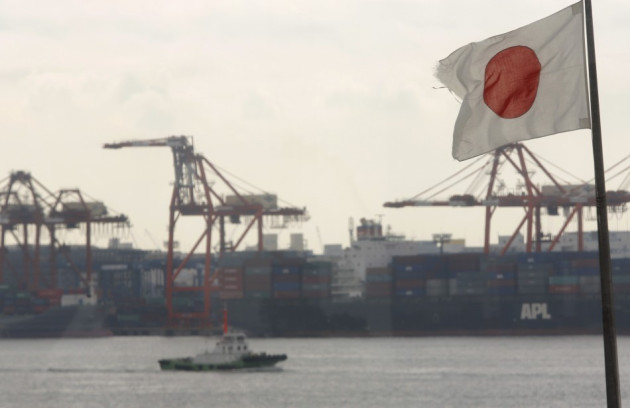 Japan's trade deficit widened again in September as the yen's weakness continued to inflate import bills.
Trade deficit for the month rose to 932bn yen ($9.5bn,£5.8bn, €6.9bn), up 64% from a year ago, according Japan's Ministry of Finance. The country was recording a trade deficit for the 15th straight month.
Exports increased by 11.5% to 5.97tn, and imports rose by 16.5% to 6.90tn.
Exports to the US increased by 17.9%, and that to the European Union increased by 14.3%. Meanwhile, exports to Asia rose just 8.2% in September after growing 13.5% in August.
Imports rose by 21.7% from Asia, 13.8% from the US and 30.7% from the EU.
Japan's shipments to China, its biggest trade partner, rose 11.4% in September, while imports from China surged 30.9% in the same period.
Weak Yen
Troubled by more than a decade-long deflation and an economic slowdown, Japan unveiled a series of aggressive fiscal and monetary measures. The measures have resulted in the yen falling nearly 25% against the US dollar since November 2012.
Japanese exporters have benefited from the yen's fall, as they receive higher profits when they repatriate money. At the same time, the higher exchange rates have inflated the country's import bills, especially due to increased electricity demand.
Japan has shut down all of its 50 nuclear reactors after the 2011 earthquake and tsunami devastated the Fukushima nuclear plant. After the disaster, Japan relied more on imports for its electricity needs.
While a recovery in the domestic economy helped surge domestic demand, Japan's imports have increased at a faster rate than its exports.
Nevertheless, the increased trading activity has helped the economy. Japan's gross domestic product has increased by 0.9% in the second quarter.
Upbeat View on Economy
Despite the trade data, Bank of Japan (BoJ) Governor Haruhiko Kuroda was optimistic about the economy, saying the moderate recovery in the economy will continue.
"Japan's economy is making steady progress toward achieving the BoJ's 2 percent inflation target," Kuroda said in a speech.
The optimism was despite the huge public debt burden the country has at more than 1,000tn yen, more than twice its GDP.
Japan is due to raise its sales tax rate to 8% in April and is planning to raise the tax further to 10% starting from October 2015 in order to curb its huge public debt.