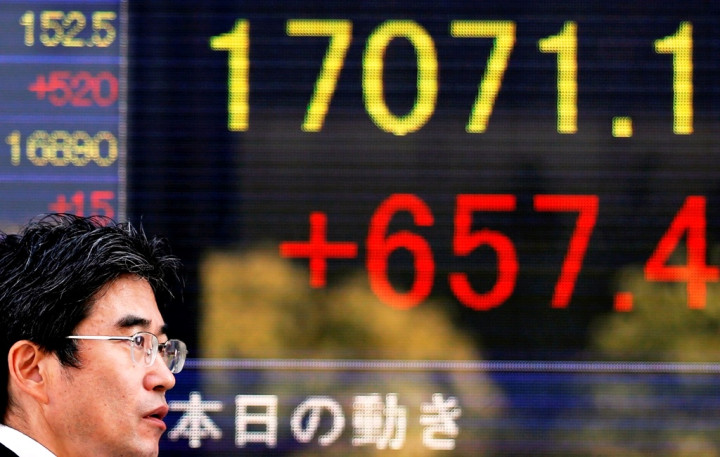 Japanese stocks surged on 4 November, extending gains into a fourth session after a long weekend, as investors cheered the Bank of Japan's surprise stimulus move and the Japanese Government Pension Investment Fund's decision to double stock investment.
The benchmark Nikkei 225 share average finished at a seven-year high on Tuesday. The Nikkei added 2.73% or 448.71 points to close at 16,862.47.
Turnover at the Tokyo Stock Exchange's (TSE) main board hit 5.4tn yen ($47.7bn, £30bn, €38bn), the second highest on record.
Top Performers
Financial and realty shares outperformed the market.
Daiwa Securities rocketed 12.3%. Nomura Holdings surged 7.7% while property developer Tokyu Fudosan jumped 7.1%.
Earlier, the Nikkei shot up 4.1% in the opening minutes of trade, rising above 17,000 points for the first time since 2007.
The Japanese markets were fuelled by the events of 31 October, when the Bank of Japan (BoJ ) stunned the markets by announcing it will expand its massive stimulus programme, and the vast Japanese Government Pension Investment Fund (GPIF) said it will double the amount of equities in its investment portfolio.
The central bank will now buy assets at an annual pace of about 80tn yen, an increase from the previous 60tn to 70tn yen target range.
Meanwhile, stocks will now account for a combined 50% of the $1.26tn GPIF's portfolio, up from about 24%, which means the fund will pour billions of dollars into the domestic and the international share markets.
The Nikkei has added 3.51% so far this year. The index, the oldest in Asia, includes the top 225 blue-chip companies listed on the TSE.