Award-winning actress Jennifer Lawrence opened up about her meeting with American television personality Kris Jenner. The Hunger Games actress admitted that she was thrilled when the 59-year-old Kardashian matriarch showed up at a surprise birthday party arranged for her by some friends on 25 August.
Kim Kardashian's mother had shared a picture of her snuggling with Lawrence on Instagram. "Happy Birthday you piece of s**t... God I love you #Jenniferlawrencethanks for making this night a night to remember.....even if we did get caught... I love you Happy Birthday Gorgeous!!!#Bible #momager #doll. Photo cred@coreygamble," Jenner captioned the image.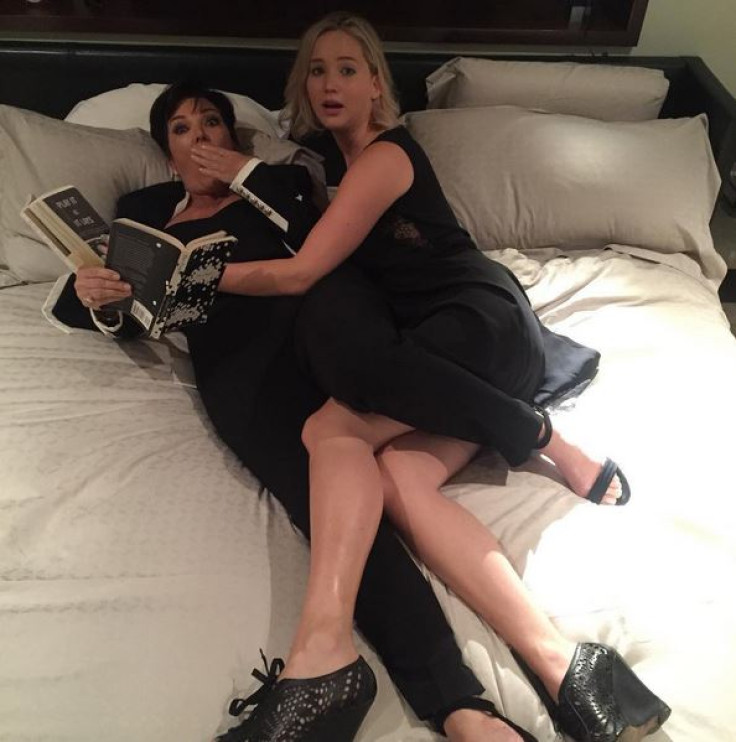 "I would love to talk about this," she told the New York Times. "My two best friends planned a surprise birthday with a big surprise within the surprise. So I'm there, and people start singing "Happy Birthday." Kris Jenner comes out holding my cake. It was the closest I've ever come to losing consciousness. I had no idea! I'd never met her before, but we've always watched "Keeping Up With the Kardashians." And then Kris Jenner and I sang "Build Me Up Buttercup" on karaoke and took that picture."
Lawrence shared her thoughts on the end of Hunger Games, and the strong bond she shared with co-stars Liam Hemsworth and Josh Hutcherson. She said: "On the last day it was so emotional, and we kind of couldn't let go of each other. We were kind of freaked out that something was ending. And then, a week later, we were hanging out at Liam [Hemsworth]'s house. We were like, 'Oh, O.K., so now we can just be friends.' After seeing that nothing really changed with the three of us — four, including Woody [Harrelson], but he lives in Hawaii, so it's trickier — we were fine.
"I mean, this was yesterday: Woody texted me, and said he had a dream about me. And I was like, 'Was I amazing?' And then Josh [Hutcherson] called me and told me he had a dream about Woody. And then my friend came over to my house and told me she had a sex dream about Liam. I didn't dream about anyone, but there's always tonight," the Silver Linings Playbook actress said.
Lawrence admitted that she Googles herself to see what people think of her on the internet. She joked: "You try being 22, having a period and staying away from Google. I once Googled 'Jennifer Lawrence Ugly.' [Laughs] Do I sound bitchy?"