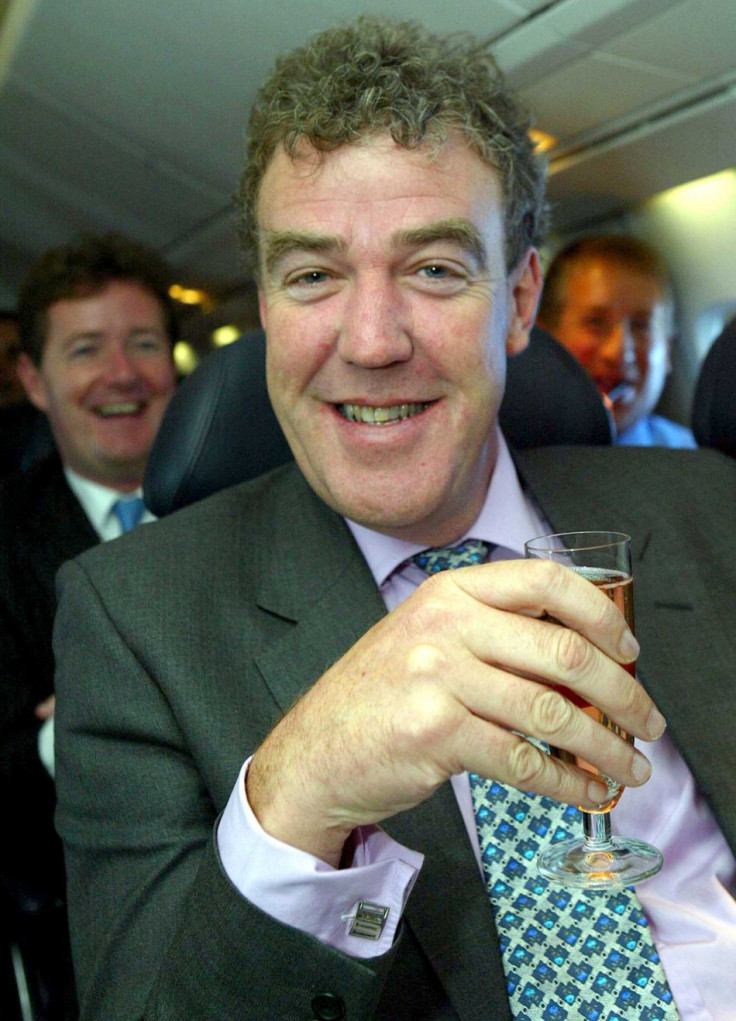 Top Gear presenter Jeremy Clarkson has had an injunction lifted which prevented allegations about an alleged affair he had with his ex-wife from being published.
The gagging prevented a claim he had an affair with his first wife Alexandra Hall while married to his current wife Frances was lifted after it became "pointless", with allegations circling on websites including Twitter.
"Injunctions don't work," Clarkson told the Daily Mail. "You take out an injunction against somebody or some organisation and immediately news of that injunction and the people involved and the story behind the injunction is in a legal-free world on Twitter and the internet."
This isn't the first time that Clarkson's private life has got him into trouble. In April 2011, the news that Clarkson had been having an affair with one of his colleagues Phillipa Saga for more than a year was alleged.
Photographs were taken of the two together abroad while the lucrative Top Gear Live tour was taking place.
It is not just his multiple affairs which have landed Clarkson in bother. The often out-spoken Top Gear presenter has got into hot water many times down the years with his outlandish and controversial opinions and remarks.
The list below reveals some of Clarkson's most controversial on-air gaffes and jokes whilst presenting the hugely successful BBC2 show.
Dec 2005 - Nazi Salute
Clarkson got himself into trouble with Britons and Germans alike when he gave a Heil Hitler Nazi salute whist giving a segment about the German car BMW. He made the remark after suggesting the BMW should be designed as a "quintessentially" German car. "Give it trafficators that go like that," he said, whilst raising his arm up and down.
He then went on to say that the sat-navs would give directions "that only goes to Poland," with reference to the German invasion that started World War Two.
November 2008 - Lorry Drivers
Clarkson's joke about lorry drivers killing prostitutes, which was said before the watershed, prompted more than 500 complaints to the BBC.
Whilst driving an HGV, Clarkson said: "It really is a hard job and I'm not just saying that to gain favour with truck drivers.
"You've got to change gear, change gear, change gear, check mirror... murder a prostitute. Change gear, change gear, murder. That's a lot of effort in a day."
February 2009 - Gordon Brown
Not even the Prime Minister at the time Gordon Brown could escape the wrath of Clarkson. During a press conference in Australia, Clarkson referred to Brown as a "one-eyed Scottish idiot." Clarkson did subsequently apologise for his remarks, but only for his comments on his physical appearance, not for the "Scottish idiot" jibe.
July 2010 - G- String and Burkas
Clarkson joined in the burka debate in his own unique style by joking that he once saw a woman wearing a burka and a G-string and stockings.
The discussion was how male drivers are easily distracted by female pedestrians. When co-presenter Richard Hammond asked is there a case for he burka, Clarkson replied: "Honestly, the burka doesn't work. I was in a cab in Piccadilly the other day when a woman in a full burka crossing the road in front of me tripped over the pavement, went head over heels and up it came, red g-string and stockings. I promise that happened."
The comments came soon after both France and Belgium announced they were introducing bans on burkas.
February 2011 - Mexicans
Following a huge row over what people considered racist remarks about Mexican people from all three Top Gear presenters, Clarkson fuelled the argument even further whilst writing in one of his newspaper comments.
In February of this year, the BBC was forced to apologise over comments which saw Hammond describe Mexican cars as "just going to be lazy, feckless, flatulent, leaning against a fence asleep looking at a cactus with a blanket with a hole in the middle on as a coat," and fellow presenter James May describing Mexican food as "like sick with cheese on it."
Clarkson then predicted that they would not get any complaints about the show because "at the Mexican embassy the ambassador is going to be sitting there with a remote control like this (snores). They won't complain, it's fine."
Unfortunately people did complain, so Clarkson responded in a column in the Sun newspaper in which he made jokes about various countries - including Britain - and signed off with a joke: "'Mexico doesn't have an Olympic team... because anyone who can run, jump or swim is already across the border."