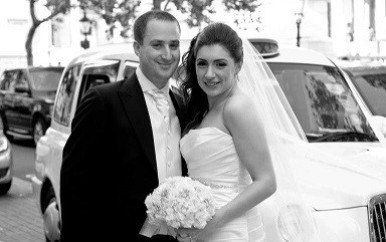 A newlywed Jewish couple were "furious" after they discovered a cameraman they hired to film their wedding day made a series of offensive and anti-Semitic comments throughout the recording.
Stan and Claudia Gocman considered taking legal action against videographer Anthony Aurelius after his foul-mouth rants against the bride and Jewish community were picked up by the camera's microphone.
During the recording, Aurelius can be heard saying to his assistant "I don't think I blame Hitler" [for the Holocaust] and how Jewish people think "they're better than everybody else because they're from Israel".
He also said how he thought Jewish women are "right f*****g cows" and the bride was "not very attractive at all".
The couple only heard Aurelius and his assistant's remarks after they paid extra for the unedited version of their wedding day as the original - which took nine months to arrive - was of poor quality.
Mr Gocman, from Edgware in north London with his wife, told the Jewish Chronicle: "It's completely anti-semitic and ignorant. Even the assistant, who is Asian, was racist. I just don't understand it.
"At first, I was really upset but then I was furious. I think he's a disgusting little man. I can't even stand to watch the video, it makes me so angry."
Aurelius eventually wrote an apology and an e-mail to the couple.
He said: "I am very sorry for our stupid, childish conversation.
"I am also very sorry for offending you and possibly your family also. You did not deserve this. I am ashamed.
"I have felt awful about this and did not know what to say.
"We know, in truth, very little about what went on in the war. To be deeply honest, I respect your strength as a culture for coming back from this."
The couple decided against taking legal action against Aurelius.
"We worked out that it would cost us more than we would get back and all we could probably sue for was negligence when it came to carrying out the contract," Mrs Gocman said.
"We received a letter from his solicitor saying his business had ceased, so it was not worth it."