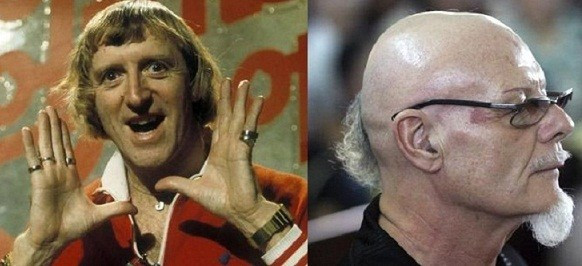 A woman has claimed she saw both Sir Jimmy Savile and convicted paedophile Gary Glitter sexually abusing under-age girls in the former Jim'll Fix It presenter's dressing room at the BBC studios.
Karin Ward, who will also claim in an explosive ITV documentary that she was abused by another television presenter when she was 14, has waived her anonymity to say she saw Glitter having sex with an underage girl in Savile's dressing room.
She said she first made the claims for a Newsnight investigation which was later shelved by the BBC.
In the ITV documentary entitled Exposure: The Other Side of Jimmy Savile, Ward says: "I told Newsnight I saw Gary Glitter have sex with a girl in Jimmy Savile's dressing room in that little alcove bit.
"I didn't see it completely but that's what was going on and nobody batted an eyelid. I also told them that I was horribly, horribly humiliated."
More women have come forward to accuse the former Top of the Pops presenter of sexual abuse in the run-up to the ITV documentary.
Dee Coles, another alleged victim who chose to waive her anonymity, told ITV's Daybreak she was made to perform sex acts on Savile in a campervan in Jersey.
A second woman told the Daily Mail that Savile raped her in a hotel room when she was 16. She had an illegal abortion, she said.
The latest rash of allegations have piled more pressure on the BBC, following claims that the company knew about Savile's personal life but turned a blind eye to it.
There have also been questions asked as to why the corporation dropped the original Newsnight investigation into the accusations aimed at Savile.
The BBC has strenuously denied these claims and added it was horrified by the accusations. Executives said the corporation would will assist any police investigations into the claims.
BBC makes direct contact with police
"A number of serious and disturbing allegations have been made over the past few days about the sexual abuse of teenage girls by Jimmy Savile," said the BBC.
"Some allegations relate to activity on BBC premises in the 1960s and 1970s. We are horrified by allegations that anything of this sort could have happened at the BBC - or have been carried out by anyone working for the BBC.
"They are allegations of a serious criminal nature which the police have the proper powers to investigate.
"So we have today asked the BBC investigations unit to make direct contact with all the police forces in receipt of allegations and offer to help them investigate these matters and provide full support to any lines of inquiry they wish to pursue."
Writing in a BBC blog post, Newsnight's editor Peter Rippon denied he was forced to drop the investigation by BBC bosses. He made the decision, he said, because the programme had not established any "institutional failure" around the Savile allegations.
Rippon wrote: "Did we withhold evidence from the police? No. We are confident that all the women we spoke to had contacted the police independently already. We also had no new evidence against any other person that would have helped the police.
"Did my bosses order me to do anything? No.
"I did discuss it with my bosses in news in the same way I do any contentious story we are working on. I was told in the strongest terms that I must be guided by editorial considerations only and that I must not let any wider considerations about the BBC affect my judgment."
Michael Grade, who was BBC chairman from 2004-06, told Channel 4 News that he heard rumours about Savile's conduct but dismissed suggestions there could have been a cover-up at the BBC.
He said: "I never heard anything that gave me cause to think we should investigate it. There were questions but the entertainment industry is awash on a sea of rumours."
It was recently revealed that both Surrey and Jersey police had investigated accusations made against Savile during his lifetime, but both decided there was insufficient evidence to act.
The documentary is also due to broadcast Savile claiming that Glitter "did nothing wrong" when he was jailed for downloading child porn. The glam rock was arrested only because he was famous, Savile maintained.