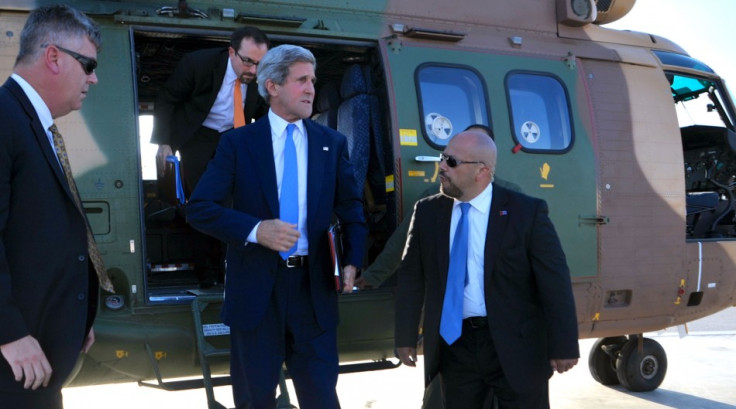 Israel and the Palestinians are to re-enter talks aimed at returning to negotiations over a final two-state settlement for the first time in three years, said US Secretary of State John Kerry.
Arriving in the Jordanian capital of Amman, Kerry said the two sides had "reached an agreement that establishes a basis for direct final status negotiations", but added they were "still in the process of being formalised".
Kerry's announcement fell short of the full resumption of talks which he had sought in talks with Palestinian, Jordanian and Arab League officials this week.
Tzipi Livni, Israel's justice minister, and Saeb Erekat, the chief Palestinian negotiator, are to travel to Washington "within the next week or so" for preliminary talks, Kerry said.
Kerry met Erekat in Amman before flying to Ramallah to meet Palestinian President Mahmoud Abbas.
"The best way to give these negotiations a chance is to keep them private," Kerry said. "We know that the challenges require some very tough choices in the days ahead. Today, however, I am hopeful."
Differences had narrowed between the two sides on the terms for renewed talks, said Kerry. "Representatives of two people today decided that the road was worth travelling," he said.
Nabil Abu Rudeina, a spokesman for Abbas, confirmed the Palestinian side was ready to re-start negotiations, which have been suspended for almost three years, but added that there were "specific details that need to be resolved".
"Abbas's meeting with Kerry in his headquarters in Ramallah on Friday evening achieved progress, and will facilitate an agreement on the basis of a resumption of talks," Rudeina said.
The Palestinians had threatened to start unilateral measures such as applying to join the International Criminal Court if no progress was achieved.
An Israeli official told Reuters: "We are talking about months, both to ensure the process is substantive and comprehensive, and to get us past September [when the UN general assembly meets]."
Reports in Israeli media this week suggested Israel might be willing to accept its pre-1967 borders as a basis for negotiations, and release political prisoners. In return, the Palestinians hinted they might be ready to recognise Israel as a Jewish state.
Israel and the Palestinians last held peace talks in 2010, which broke down over the issue of Israel's expansion of Jewish settlements in the West Bank.
The Palestinian leadership, meeting in Ramallah, failed to endorse a return to peace talks.
However, the Arab League, whose support is deemed crucial in securing a two-state solution, endorsed the resumption of direct talks.
Differences persist on issues such as borders, refugees, and Jewish settlements in the West Bank.
Naftali Bennett, economy minister and head of the pro-settler Jewish Home party, threatened to leave Prime Minister Benjamin Netanyahu's coalition if negotiations were to be on the basis of the 1967 borders.
Kerry's announcement came after the European Union published new guidelines barring Israeli entities beyond the pre-1967 border or Green Line from receiving funds, grants and scholarships.
Reacting to the guidelines, Israel accused the EU of attempting to influence the outcome of future talks.
"Israel rejects the attempt by the European Commission to coerce positions on issues which belong at the Israeli-Palestinian negotiations table," its foreign ministry said.
"Israel's borders will not be determined by European Commission guidelines but by negotiations between the concerned parties."
British Foreign Secretary William Hague "warmly welcomed" the announcement, adding that Britain was "ready to do all we can" to help.
Livni, the chief Israeli negotiator, and her Palestinian counterpart Saeb Erekat will travel to Washington as early as next week.