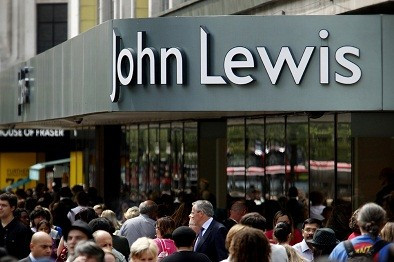 The employee-owned John Lewis Partnership Plc has posted a 60 percent increase in first-half profit, while cautioning its partners that growth into the second half of the year will slow as a result of its ongoing investment programme.
Pre-tax profit was announced at £114.5m, the group said in a statement - a 60 percent increase from the same period last year. Revenues grew by 8.6 percent to just under £4bn. Operating profits at its flagship John Lewis department stores - the largest chain in the United Kingdom - rose a staggering 189 percent to £45.6m. The corresponding figure at Waitrose, its grocery store brand, rose 29 percent to £142m.
"The partnership has delivered strong growth in the first half," said group chairman Charlie Mayfield in the statement. "Both Waitrose and John Lewis increased their market shares."
The figures represent a stark turnaround from the company's 2011 financial year, which saw a 4 percent decline in full-year profits and a 15 percent cut in staff bonuses. Mayfield said at the time of the cut that he was "cautiously optimistic" that both the London 2012 Olympics and the Queen's Diamond Jubilee celebrations would improve performance in the first half of this year.
"Our rate of growth will remain positive but will be slower in the second half and, with further investment planned in that period to strengthen our business for the longer term, the rapid rate of profit increase is not expected to be carried through to the full year. This is consistent with our long term commitment to building the partnership for the future."
British Retail sales volume grew by 0.3 percent month-on-month in July, according to the last available offiicial figures, better than the anticipated contraction and welcome news for embattled retailers struggling in a difficult trading environment.
Excluding fuel sales, the seasonally adjusted figure is unchanged on June, according to the Office for National Statistics (ONS). However many retailers were expecting a drop in sales as the UK recession worsened.
The London 2012 Olympic Games started at the end of July, but initial signs suggest that the event has not been a boost for retailers.
"Feedback from retailers suggests that there has been no impact on sales from the Games in this trading period," said the ONS.
June's retail sales figure was revised up to 0.8 percent from the initial estimate of 0.1 percent. This may have a slight upward impact on appalling second quarter GDP data, which showed a -0.7 percent decline in overall output from the UK economy.