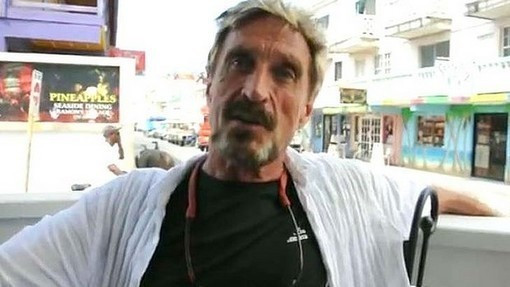 John McAfee, the founder of the McAfee anti-virus software firm, has been arrested after weeks on the run, according to an unconfirmed report on his official blog.
The 67-year-old, who went into hiding following the alleged murder of his neighbour, has reportedly been captured alive.
"We have received an unconfirmed report that John McAfee has been captured at the border of Belize and Mexico. More information as it is received," the blog said.
The blog website was launched by the anti-virus software pioneer to provide his version of the incident for which he is being sought, a version that is at odds with claims made by media and authorities.
If the blog report is true, it will bring an end to a month-long saga that began with the death of McAfee's neighbour Gregory Faull, 52, who was found dead with a bullet wound to the head at his villa, off the coast of Belize, on 11 November.
McAfee has stated he will be killed by the authorities if captured, and has protested his innocence of the alleged murder. Police, however, have said that they simply want to question McAfee in relation to the crime. The Prime Minister of Belize has appealed to McAfee to give himself up, calling him "paranoid" and "bonkers".
In a brief recent interview with CNN, McAfee said, "I will certainly not turn myself in, and I will certainly not quit fighting. I will not stop my blog."
Ever since he became a suspect in the investigation, McAfee has been on the move, constantly changing his appearance.
British-born McAfee was a pioneer in computer virus detection and founder of the anti-virus company that still bears his name. He started the company in 1987, and made his personal fortune from its sale less than ten years later.