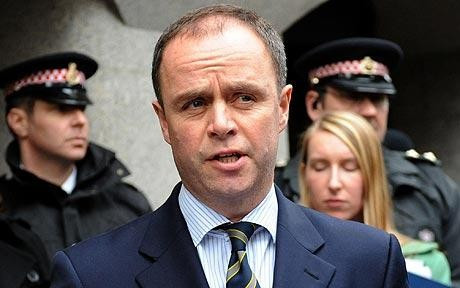 Assistant commissioner of the Metropolitan police, John Yates has resigned from his post over the phone hacking scandal that has already claimed his bosses' job Scotland Yard has said. John Yates' resignation comes after the assistant commissioner pleaded his innocence over any allegations connected with phone hacking but at around 14.30GMT he decided to resign with immediate effect.
Sir Paul Stephenson resigned from his post as commissioner yesterday and John Yates has followed his boss out of the door. John Yates is the latest high profile figure to lose his job after allegations were made that the News of the World hacked murdered teenager Milly Dowler's mobile telephone.
The assistant commissioner has come under increasing over his failure to fully look at fresh allegations that new News of the World illegally accessed voicemails. The Common's Committee investigating phone hacking have called John Yates back so that MP's can clarify the evidence he game them last week.
The officer assessed the first inquiry into the practice for several hours two years ago but ruled there was nothing further worth acting upon.
Since then there have been allegations that almost 4,000 people may have had their phone hacked, including Milly Dowler and the families of 7/7 terror victims as well as the relatives of dead soldiers.
More to follow