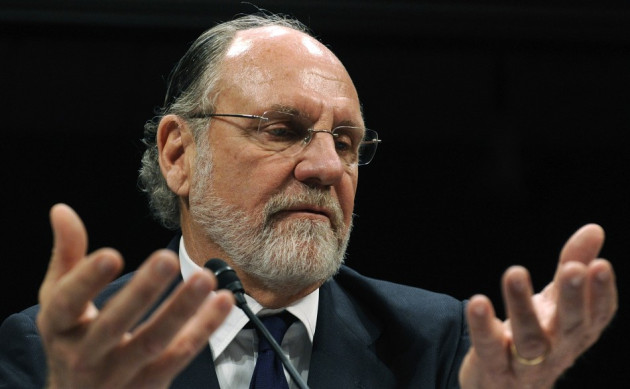 US regulators have charged Jon Corzine with the alleged misuse of $1 billion of client money, which led to the collapse of MF Global.
The Commodity Futures Trading Commission (CFTC) charged Corzine, who was also the former New Jersey governor, as well as former assistant treasurer Edith O'Brien.
The CFTC lawsuit unearthed emails and transcripts of phone calls that the regulator said shows Corzine's culpability for the collapse of the commodities broker, which was the eighth largest bankruptcy in US history.
In a separate action, defunct MF Global agreed to repay all $1.2bn (£785m, €921m) missing from client accounts. It also settled with regulators for a $100m penalty.
However, Corzine's legal representation hit back at the lawsuit on behalf of his client.
"This is an unprecedented lawsuit based on meritless allegations that Mr Corzine failed to supervise an experienced back-office professional who was located in a different city and who did not report to Mr Corzine or even to anyone who reported to Mr Corzine," said Andy Levander, counsel for Corzine.
"After 20 months of thorough investigations by the Department of Justice, two bankruptcy trustees, and the CFTC, no evidence has been found that contradicts Mr Corzine's sworn testimony before Congress.
"Mr Corzine did nothing wrong, and we look forward to vindicating him in court."
Corzine stepped down as CEO of MF Global on 4 November 2011 and did not "seek severance payments in connection with his resignation", after the spectacular collapse of the global firm a few days earlier.
MF Global Holdings and its finance subsidiary MF Global Finance USA filed for Chapter 11 bankruptcy protection in the Federal Bankruptcy Court in Manhattan after it revealed on 25 October that it had a quarterly loss of $191.6m and high levels sovereign debt.
Effectively, as of September 30, MF Global bet $6.3bn in sovereign debt linked to Belgium, Italy, Spain, Portugal and Ireland but when the crisis hit its peak, all products turned sour.
According to Corzine, who joined MF Global as CEO in March 2010, he had planned to transform the futures broker into a major investment bank.
"Corzine's strategy called for making increasingly risky and larger investments of the firm's money," said the CFTC.
In 2011, the CFTC said "MF Global's need for cash was rising and its sources of cash were diminishing."
The lawsuit is an unusual move for the CFTC as regulators usually like to settle out of court to prevent the case potentially dragging on for years.
If charged, Corzine and O'Brien could face fines and possibly a ban from trading commodities if they are found liable.