It's fair to say Jonny Rowell has taken the path far less travelled in his journey to top flight football since leaving Newcastle United's academy as a teenager.
After being released by his boyhood club and following a frustrating spell at Hartlepool United, he found himself back at square one with no team and his future in the game shrouded in uncertainty. Three years later, the Waasland-Beveren midfielder stands as the only English man plying his trade in Belgium's Jupiler Pro League, having occupied a front row seat to the country's meteoric rise in profile.
With the exception of Southampton, every team in the Premier League's top eight accommodates a fully-fledged Belgian international, whose roles for in Marc Wilmots' side reflects the high regard they are held in at their respective clubs.
With English football now home to more Belgian internationals in its top flight that any other country in Europe, Rowell himself opted for the less glamorous alternative route, swapping England's third tier of English football for Belgium's Third Division B side Olympic Chareloi in 2010.
"I was at Newcastle from the age of eight to 16, but as I was too small, the physical side of what was expected wasn't good enough," Rowell exclusively told IBTimes UK.
"I moved on to Hartlepool and at that time I left I still had a one year option and to be honest it was a surprise they didn't keep me on. I wasn't playing as much as I wanted but when I did, I did well and seemed to have a good relationship with the supporters as I was quite local.
"Coming from Newcastle, most teams are down south anyway so moving away was the most likely option, but all I was getting was trials and I know from my time at Hartlepool we had different players on trial every week, some you would never see again so I knew how hard it was going to be.
"But there was a project I was turned on to and my move to Charleroi came about. I came over and had a look and liked what I saw."
A short head count of Englishmen playing abroad at a relatively young age suggests that option is not one warmly embraced by players who have suffered early setbacks as 24-year-old Rowell did. Following a succession of unsuccessful loan spells across the Championship and League 1, former Manchester United hopeful Adam Eckersley has now fashioned a steady career in Denmark's top flight with AGF Aarhus, helping the side achieve promotion to Denmark's Superliga in 2010.
Former West Bromwich Albion goalkeeper Matt Jones has found his feet in Portugal's top flight with Belenenses after taking an unusual detour through America's college divisions, while former Grimsby Town defender Charlie l'Anson is rebuilding at La Liga outfit Elche.
But the promise such moves hold is equally fraught with risk. More than aware of the potential perils of embarking upon the trial scene having seen many hopefuls pass in and out at Hartlepool, joining Charleroi gave Rowell the renewed option of rising through the divisions - a perennially difficult prospect back in the UK. The midfielder took the challenge of swapping country and culture, but also one where he took on an entirely different beast of football.
"When foreign players move to England you don't really think much of it, but the change is huge," Rowell continued. "Even little things like going into the shop to buy something when you're still learning the language, it's hard. But I decided to do it because the chance to get used to it and progress up the divisions was real, but in England where the Premier League and even the Championship are so money-driven, it's not a simple route."
Looking back on the comparisons between day to day life at a club in England and one in Belgium, Rowell believes the differences in approach are vast. "When I was in England, for example we would train for an hour and a half from 10:30, and it would be very intense, very physical, whereas over here, I come in at 9, do an hour of circuit training and then we all sit down and watch the DVD of our last game at the weekend.
"Back on the training pitch, the tempo is different, it's slower, everything is slower. Emphasis in England lies in a very fast tempo, faced paced, getting in your opponents' face as quickly as possible, whereas over here it's a bit more tactical and you're encouraged to just use your brain a bit more.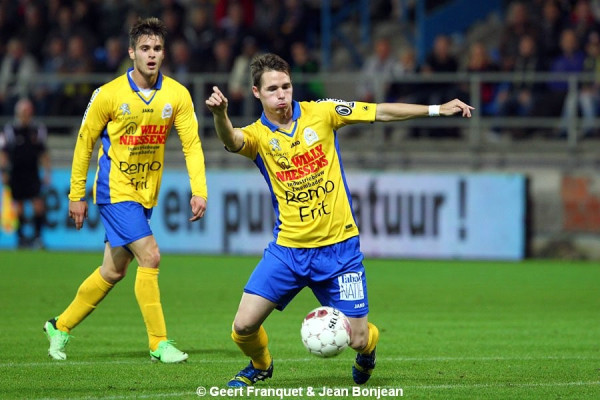 "Obviously in the Premier League the players are at the top level, but I think compared to the lower leagues (in England) you always knew you were in for a battle, but there are some games over here where you get the ball and there's no one near you, you have so much more time on the ball, but in turn it's a lot harder to break teams down."
Rowell's debut season in Belgium was a success as he helped Charleroi to an eighth placed finish, endearing himself to his new supporters and inevitably drawing the attention of clubs further up the ladder, Waasland-Beveren in particular.
Despite having impressed on trials back in the north east with Gateshead, the former Newcastle youth player was enticed by Waasland-Beveren, who were sat in the second tier of Belgian football at the time. The club, a product of a merge between of K.V Red Star Waasland and KSK Beveren, who gave Emmanuel Eboue, Gervinho and Yaya Toure their first opportunities in Europe, had eager intentions to claw their way back into the top flight, and enlisted Rowell's services to help them do so.
This development gave Rowell's plan to progress through Belgium's divisions a significant shot in the arm in an environment he rates as healthier compared to that in England.
"When I was younger playing for Newcastle and England youth teams we always played in a 4-4-2 formation, you learnt to play it all the time and I know that formation almost off by heart now. But when I came over here, no one was really playing 4-4-2, and now in England, they're drifting towards 4-3-3 and 4-5-1 variations. For me it was difficult tactically to adjust, but for the young players here they know everything already tactically, how to defend, how to slow a game up.
"Because I was English, there was a little bit of attention, people watching out for me, but really it's only been since I started playing in the first division that people start to talk about you. But when we were in the third and second division when we were winning almost every game, we were never spoken of, it's not like in the Championship in England where there's so much attention. So I guess that is where players can develop, there is far less pressure."
Since English footballers' brief fling with Serie A throughout the 80's and early 90's, the idea of domestic players chancing a change in their surroundings has become alien for most. Rowell, who is still looking to discover his full fitness after missing all of his preseason through injury, is an advocate for more players leaving their comfort zone given the limitations in English football, and would be keen to see young players educated on the possible options for them outside of the British Isles.
"I had the opportunity to do it (move to Belgium) but for other young players maybe in a similar situation, it's not easy, they've got no real connections. Those connections that see players from abroad brought to England from Germany, Spain or France are there, but when you're young playing for a side in England, you don't really think about playing abroad. If you think about how many players actually play abroad, you could count them on your hands.
"But if a young kid asked me of what I'd done I'd definitely recommend it, you progress so much. I got injured at the end of last season and have just started to come back now so I haven't really played that much, but last year when I was, I was getting a few Championship teams asking about me, a few more in France and Holland.
"That all comes from been given the opportunity and the platform to show what you can do you can play at a higher level in a different country. To play in the Premier League now is almost impossible."
After recuperating from injury, Rowell's season begins now with Waasland-Beveren having picked up just one win so far this campaign, leaving them third from bottom in the league. But having spent most of his career fighting an uphill battle, one more will come as just another challenge.