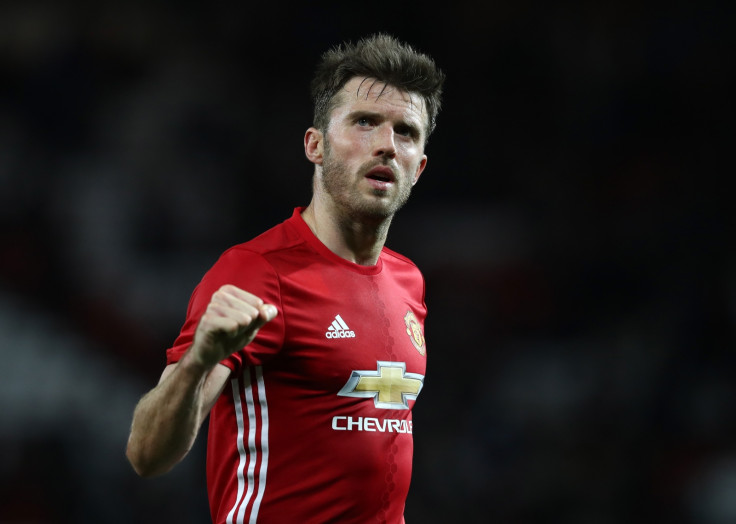 Manchester United boss Jose Mourinho has heaped praise on the "phenomenal" Michael Carrick but admits he cannot ask him to play every game.
After signing a contract extension in June, Carrick has started just three times for United this season. On each occasion, however, his contribution has been telling.
In the EFL Cup third-round tie against Northampton Town, the veteran midfielder opened the scoring for his side. Against Fenerbahce, he controlled the game from midfield with his superb long-range passing leading to the penalty kick that saw United open their scoring.
And against Manchester City on Wednesday (26 October), he wore the captain's armband, leading his side to a hard-fought win over their neighbours.
United do not appear to have another midfielder like Carrick in their ranks, but Mourinho has stressed the importance of managing the 35-year-old's workload throughout the season.
"He's phenomenal, no doubt about it, but I think I have to manage him," Mourinho told a press conference ahead of Saturday's Premier League meeting with Burnley. "I can't expect from Michael what I expect from [Marcus] Rashford or [Ander] Herrera in terms of playing three to five consecutive matches, but he's phenomenal."
United's victory over their neighbours ended a run of four games without a win. A home game against Burnley, currently 14th in the league, presents them with a good chance of bringing that winning return to the league, but Mourinho is wary of the Clarets' threat, especially with his side currently navigating such a congested fixture schedule.
"Burnley is the same Burnley. It is the same manager, basically the same players, same philosophy, same profile of team and same mentality. We know it will be tough for us, especially because we come in with a run of five matches with two days in between. Finally we will have a Sunday off and a little bit of time until the Fenerbahce match."