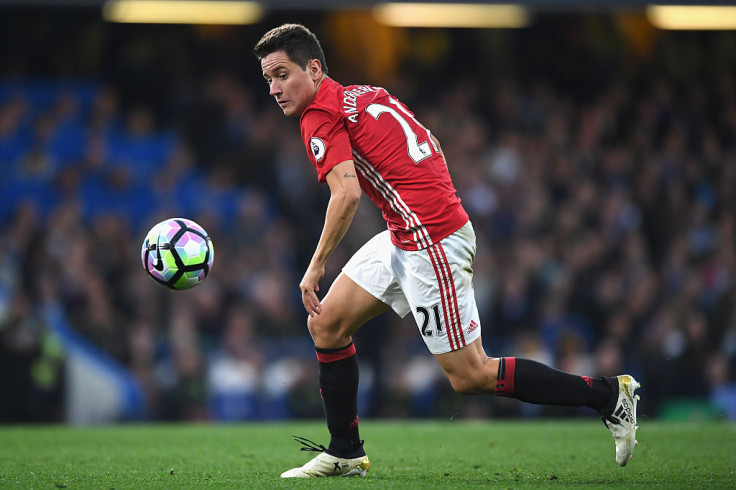 Jose Mourinho reserved special praise for midfield trio Paul Pogba, Ander Herrera and Michael Carrick after Manchester United's 1-0 win over Manchester City in the fourth round of the EFL Cup on Wednesday (26 October). After an uneventful first-half Juan Mata broke the deadlock in the second-half to score the only goal of the game and help the Red Devils progress to the quarter-finals where they will face West Ham United, who overcame Chelsea.
Herrera and Carrick started in the deep lying midfielder's role with the former mainly playing in front of the back four, while Pogba started in the No 10 role, that is slowly becoming a regular position for the Frenchman. The Etihad Stadium outfit shaded the possession 52-48 during the course of the game, but had more of the ball during the first-half and struggled to break down their possession play.
The Portuguese manager admitted that his team changed their approach in the second-half and credited the midfield trio for making them more dangerous, which eventually paid dividends as they broke the deadlock and ensured they remained in the competition. Pogba, Zlatan Ibrahimovic, who registered his first assist since joining United also had chances following Mata's goal, but failed to convert as they held on for a 1-0 win.
"We found a better way to press them and to recover the ball [in the second half]. We were getting confident step by step, we were starting to trust our defensive organisation. Then in the second half, especially Herrera, Carrick and Pogba, they increased the tempo," Mourinho told United's official site.
"They started pressing higher. I thought Ander brought the team to different levels of intensity and pressing. Then we started recovering balls and being dangerous," the Portuguese coach added.