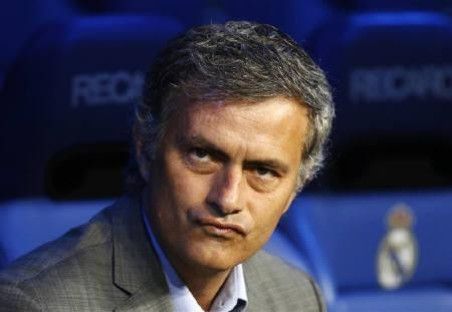 With Real Madrid languishing some 18 points behind Barcelona, and even more inconceivably seven behind local rivals Atletico, it is perhaps of little surprise that Jose Mourinho has once again outlined his desire to return to the Premier League.
Mourinho has been far from 'Special' this season as Madrid have been horribly out of form. They have suff3ered defeats to Malaga, Celta Vigo, Real Betis, Sevilla and Getafe, while their 0-0 draw with bottom of the league Osasuna last weekend further highlighted the problems.
They did not register a shot on target in that game until the 93rd minute and even the most angelic of footballers Kaka lost his temper as he picked up his first ever red card. Combine their poor form with Mourinho's decision to drop Real Madrid legend Iker Casillas and you have a club in turmoil.
Madrid fans find it unforgiveable that Casillas was sacrificed in Mourinho's attempts to control his squad. With the Portuguese manager also suggesting that the league is over and the Champions League is their priority, how long does he have left?
With so much going wrong in Spain, Mourinho found the perfect opportunity to talk up a return to England via a video message recorded for the launch of the Football Association's 150th anniversary on Wednesday.
"My memories from English football could not be better. It was my first experience outside of Portugal - I was still a very young coach when I left Portugal to go to England. But there couldn't be a better place to go. In England you feel the real passion for the game.
"You also don't feel what we feel in almost every other country which is the passion for clubs. In England, it's not just about passion for clubs, it's mainly about passion for football - and you feel it.
"So, my memories are great. I loved it from the first to the last day. I don't regret my last day because after that I was lucky enough to enjoy Italy and to have and enjoy some success there and also in Spain, so I don't regret the day I left.
"But I know that one day I will come back because English football means a lot to myself ... Of course, it's impossible, but I feel everybody involved in the game should experience English football because it's a special feeling. You really enjoy being a football professional there."
Mourinho may want a return, but the questions remains as to which club will want him. Will it be Chelsea that want him back once Rafa Benitez leaves in the summer; will Manchester City sack Roberto Mancini if he fails to deliver the league title, could Arsene Wenger walk away from Arsenal if they finish outside the top four or could the apprentice take over from the old master at Manchester United?
Chelsea
This seems the most likely option for Mourinho should a return to England be on the cards this summer. Current boss Benitez is only on an interim contract until the end of the season and unless he can deliver a shock league title it is unlikely that Roman Abramovich will want to keep the Spaniard.
There is still a special place in the heart of Chelsea fans for Mourinho and they would rejoice at seeing him back at the helm. There is also little doubt that the 49-year-old would love to return to the club and once again build a squad capable of winning the league. His ego may be massive but he has shown he can turn a club around with the right funding. The only question is whether Abramovich would want the big ego back at the club.
Verdict: Probable
Manchester City
Roberto Mancini may be on borrowed time if he cannot maintain a genuine title challenge. Manchester City finished bottom of their Champions League group, which featured Real Madrid, and are currently seven points behind Manchester United. They have failed to look as convincing as last season and somehow appeared to have slipped backwards.
It also seems everything at the club is set up for Mourinho. They have the finances in place, a squad that requires few additions and the infrastructure is there. It would also give the former Inter Milan manager the chance to spar with Ferguson on an almost weekly basis. The two Manchester clubs are the dominant forces in the division and what better way for Mourinho to make a sensational return than to upstage Ferguson once again. The biggest problem may be that he will be competing with Pep Guardiola for the job.
Verdict: Possible
Manchester United
We admit this may not be likely but what if Mourinho was not to return to the Premier League for another two or three years? He may fancy winning the French league with PSG or even taking a prolonged break away from the game, a la Pep Gaurdiola.
It is clear that Manchester United would be a massive challenge for Mourinho, and more importantly one that he would thrive on. Succeeding Ferguson has to be the hardest job in football and it requires a big personality. Someone who is unafraid of the reputation and legacy that went before him. Mourinho may well be that man. There is also a suggestion that he would have the Scot's blessing as the two often enjoyed a glass of wine together while discussing the intricacies of the game. A long shot, but one you cannot rule out.
Verdict: Improbable
Arsenal
This is another case which requires some extraordinary incidents to happen. Arsenal would have to sack Arsene Wenger, frankly this will never happen, or the vastly experienced French boss would finally walk away from the club. Should the Gunners finish outside the top four then perhaps there is just the slightest chance that this could happen.
Mourinho would almost certainly be interested in the job became available as it would present him with the chance to become a legend. The man that delivered trophies after a drought that seemed it would never end. He would of course demand money from the Arsenal board who by this point would have been forced to change their ways if they missed out on the financial gains of top European football. The Arsenal fans may not be so welcoming after his success in west London but that would soon change is success arrived.
Verdict: Implausible