JPMorgan Chase is aiming to axe 19,000 jobs by the end of next year as it looks to cut costs and save around $3bn.
According one of the bank's presentations on its website during an investor conference, the group is looking to reduce headcount in Consumer & Community Banking (CCB) by between 3000 and 4000 people and slash mortgage banking positions by between 13,000 and 15,000 by the end of 2014.
Gordon Smith, CEO of CCB at JPMorgan Chase, said in the presentation his division's expenses are "expected to modestly increase as we continue to grow the business, while mortgage expense will decline through year-end 2014."
Smith added that since the bank is looking to reduce costs through technology and self-service in consumer banking this will lead to a reduction in staff as customers adopt these mechanisms [Fig 1.]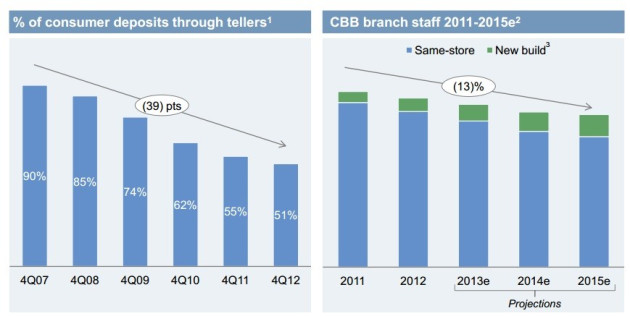 The JPMorgan presentation also revealed that around the 20 percent of same-store staffing decline by 2015 will be via attrition, but the bank "will simultaneously grow the business."
In investment banking, JPMorgan has more than 52,000 employees across the world [Fig 2.] but 260,095 overall.