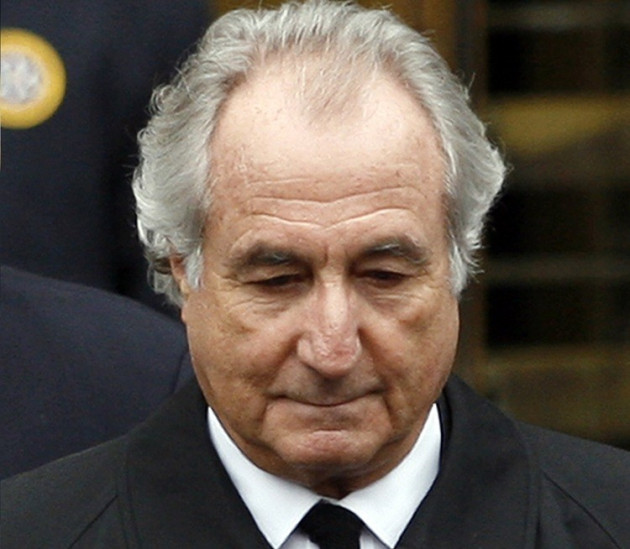 JPMorgan is in negotiations with US authorities in an attempt to avoid potential criminal charges by paying a fine over suspicions that it knew of Bernard Madoff's Ponzi scheme but did not sound the alarm, according to the New York Times.
Madoff's scheme, which at the time of its 2008 collapse and exposure was worth $65bn (£40.1bn, €47.5bn), worked by paying out returns to existing investors from new deposits. Investors thought their cash was used to buy securities from which they would yield returns.
JPMorgan is being probed by the FBI and US Attorney's Office on the question of whether it knew about Madoff's fraud, which saw the fraudster handed a 150-year prison sentence. JPMorgan was Madoff's primary bank for over 20 years. Under the Bank Secrecy Act, anyone with suspicions of wrongdoing must report them to the authorities.
Anonymous sources told NYT's DealBook that prosecutors and JPMorgan had held preliminary discussions about a deferred prosecution agreement.
This would see any charges against JPMorgan suspended in exchange for the payment of a fine and the acknowledgment that it will face the charges if it misbehaves in the future.
DealBook reported that its sources told them prosecutors had not yet charged any current or former JPMorgan employees.
JPMorgan declined to comment to NYT and has not at the time of publishing responded to IBTimes UK's request for comment. In the past, JPMorgan has said "all of our personnel acted in good faith" relating to their dealings with Madoff.
At a recent trial in New York, defence lawyers of ex-Madoff employees accused of assisting in the fraud told the court that the banker was revered like a cult god with staff obeying his every command.
Scandals
JPMorgan has been hit by a number of scandals in recent years.
It was fined a combined $1bn by UK and US regulators over the London Whale trading saga, which pushed it to a $6bn loss after bad market bets went sour.
Two former senior staff members have been charged by US authorities on allegations of trying to cover up the size of the losses, but the man who made the legal trades - Bruno Iksil - has not been arrested.
JPMorgan will have refund hundreds of millions of dollars to customers after US regulators ruled that two million clients were harmed by the bank's debt collection and other credit card procedure practices.
The Consumer Financial Protection Bureau and the Office of the Comptroller of the Currency (OCC) ordered the bank to return $309m to customers that were charged for the credit-monitoring services they never received.
The regulators also said that there were errors in the way the investment bank pursued customers through the court.
JPMorgan has agreed to pay one of the largest financial penalties in history after sealing a tentative $13bn deal with the US Department of Justice to put an end to a raft of government mortgage product related probes.
According to sources cited by Reuters, although JPM has reached a bumper deal with authorities, the investment banking giant is not free of criminal liability and will have to continue to cooperate in criminal inquiries into individuals involved in the conduct at issue.
The Securities and Exchange Commission is investigating JPMorgan for allegedly hiring the children of powerful heads of state-owned companies in China in a bid to win more business.
According to an unnamed source cited by Reuters, the SEC is probing JPM, under the US Foreign Corrupt Practices Act, as hiring people with the aim of winning more business from relatives is considered bribery.
Media reports add that the US regulator is particularly concerned about JPMorgan's relationships with at least two families in China. These allegedly include the son of the chief of a state-controlled financial conglomerate as well as the daughter of the state-controlled China Railway Group, whose public offering was handled by the bank.