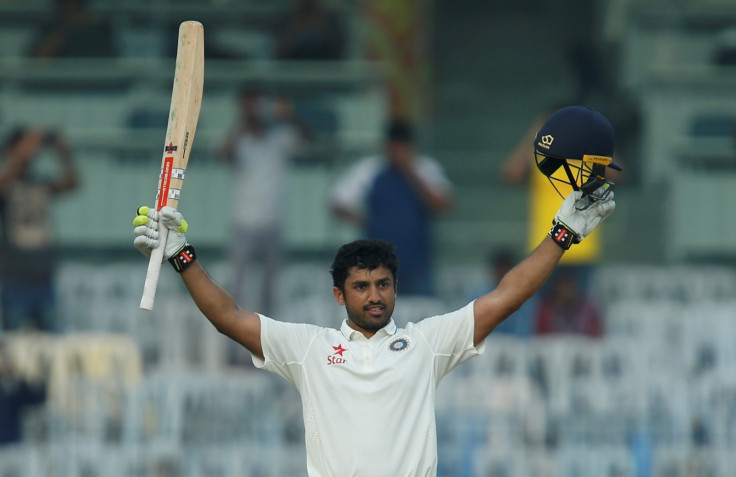 Karun Nair became just the second player to score a triple century for India as England suffered yet another chastening day this winter on day four of the fifth Test in Chennai. The hosts struck their highest ever Test score of 759 for 7 declared, the most amount of runs conceded by England in a single innings, during a brutal and harrowing day on the penultimate Test day of the tour.
On just his second Test appearance Nair converted his maiden century to finish on 303 not out and join Virender Sehwag as the only two players to reach the landmark. Ravichandran Ashwin [67] and Ravindra Jadeja [51] both hit half-centuries to take India into a commanding lead of 282 runs, leaving England facing a humiliating loss and a 4-0 series defeat.
Captain Alastair Cook and Keaton Jennings negotiated the final five overs of the day unscathed but they face three further testing sessions if they are to prevent defeat. Ashwin and Jadeja both benefitted from turn during the dying embers of the day, meaning England must fight for their lives to survive another reverse.
"Best knock I've played in my life," said Nair. "Many situations in the middle when I had to play differently, with Rahul, Ashwin and Jaddu. I have to thank them for supporting me, egging me on. The first hundred is always important and I think when I got the first hundred, I didn't feel any pressure. I was just playing my shots after that," he says.
"Sweep comes naturally to me, I've worked on it a lot, it's my go-to shot and it just came off today. [Family sitting in the stands] My dad watches most of my games. No extra pressure on me. I'd like to thank them for coming over. I think they should be proud of me.
"The message was to attack in the third session. We had a set overs to declare on, but when I got closer to 300, they pushed it back. I'm thankful to the team management. [Did you tease Rahul for getting out on 199?] Rahul is a good player. He'll get his 200 soon. The pitch is getting worse day by day. Hard for a new batsman. It's turning a bit right now, hope it turns more tomorrow. "