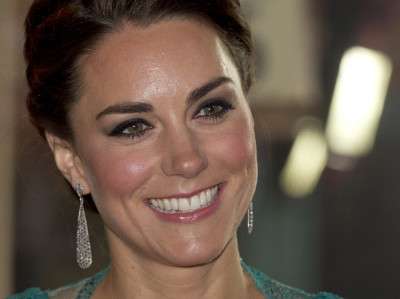 Kate Middleton steals the show wherever she goes. The Duchess of Cambridge is not only praised for her clothing, fashion and royal elegance, but also for having the best smile in the world.
In a poll conducted by a health care group called Bupa, a British smile was voted the most popular in the poll - with Kate Middleton's natural smile trouncing the competition and being voted the nation's favourite, according to the British website Dentistry.
"More than half of Brits believe that the quality of a person's teeth has a major impact on a person's career or romantic life. Three in five people (63%) believe having bad teeth can prevent someone from finding a partner Over half (52%) believe having nice teeth can help someone get a better job Almost half (46%) believe having nice teeth can help a person to make more friends," the site reports.
Kate Middleton's smile has been doing the rounds since she started dating William. A report in the Daily Mail in 2011 had revealed that the secret to Kate's smile is a technique called "micro-rotation" that was performed by a French dentist, Didier Fillion, on her.
The Daily Mail describes the scientific process of "micro-rotation" as a method to get a perfectly imperfect smile. By slightly rotating the teeth, the natural straight line is broken up. It is done using orthodontics, an illusion of minor rotations by grinding the teeth or adding veneers.
"He did some little micro-rotations on Kate Middleton so that it looks like a natural, healthy smile, but not artificial," Bernard Touati, Fillion's close friend and colleague, told the Times Magazine. Apparently, the trick is to achieve something called "harmonious asymmetry".
A perfect smile like that of Kate costs between £4,000 and £11,000. Fillion has not yet confirmed in public that Kate is his client. On his website, Fillion wrote: "I consider every single patient as a unique individual with a past history, with concerns, and also with dreams. It is important for me to understand what the patient wishes to achieve through his orthodontic treatment. Thus, I try to create a pleasant environment, a comfortable and welcoming atmosphere in order to start a good relationship and make a total success out of the patient's orthodontic experience. A treatment is fully accomplished only when the patient himself is totally satisfied with the final result: when his smile has become the smile of his dreams."
"Being happy with your teeth can have a big impact on your confidence and this can affect your work and relationships. So it's surprising that so many people don't go for regular dental examinations. Even people who are currently happy with their teeth should pay attention to their dental health, as problems can happen at any time and get worse if not treated," Brian Franks, clinical director of dentistry with Bupa Health and Wellbeing, said.
A look at Kate's most beautiful smiles: