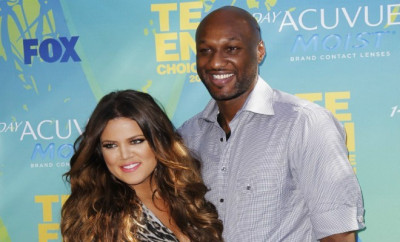 Lamar Odom is reportedly worried about how he will be portrayed on the new series of Keeping Up With The Kardashians, after Khloe Kardashian filed for divorce.
A promo for the show revealed Kardashian's marriage troubles with play a central role on new episodes.
"The last thing Lamar needs in his life is to be portrayed as a schmuck," a source close to Odom told Radar Online, "Khloe has assured him that it won't be bad, but how can it not be? The end of the marriage is going to be Khloe's main storyline next season and Lamar is afraid that his drug use and cheating will be addressed on the show."
The 29-year-old reality star tied the knot with the 34-year-old professional basketball player in 2009, just four weeks after they first met.
The couple's marriage first hit the rocks last year when it was claimed that Odom had cheated on his wife with several women. He also reportedly denied to take professional help for his drug addiction.
"At the same time, he is trying to make a career comeback and he thinks this is going to hinder and hurt those efforts. He feels he's going to be used to get ratings for the Kardashians," the insider added.
In a recent interview with People, Kardashian matriarch Kris Jenner claimed that she loves Odom regardless of the divorce.
"I still love Lamar and I love Khloé, and I hate, hate they're going through this. But if it's something that Khloé feels she needs to do, then I'm 150 percent behind her. We all lean on each other, we have to," she said.
The new series of Keeping Up With The Kardashians will air in the US from 19 January.