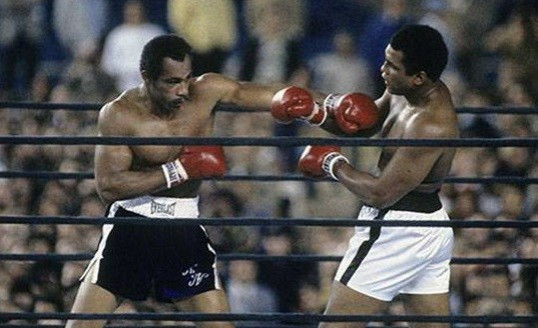 Ken Norton, the American fighter who had three memorable bouts with Muhammad Ali and went on to become the WBC heavyweight champion of the world, passed away on Wednesday at the age of 70 in his home town of Henderson, Nevada.
Norton had been in poor health for several years, suffering from a series of strokes, and sadly lost his final battle but his memory will live long after a memorable boxing career that saw him fight the great Ali on some three occasions.
Ali would twice defeat the exceptionally muscular Norton but it was their first encounter back in 1973 that will truly stand the test of time.
The Louisville Lip had lost just one to Joe Frazier and was in the prime of his career as he prepared to take on the unorthodox Norton who was given virtually no chance of defeating the fighter who would go on to simply be known as 'The Greatest'.
Norton was known for his ferocious punching but he had never faced anyone in the class of Ali. Despite his sculpted physique, he simply did not possess the same skills as his illustrious opponent.
Ali was a five to one favourite with the bookmakers and exuded confidence. He entered the ring in eye catching fashion as he donned a robe encrusted with jewels and rhinestones and baring the worlds 'People's Choice'. It was a gift from Elvis Presley which would never be worn again.
A 31 years old Ali would attempt to box the only way he knew how. He wanted to dance rings round Norton, using his sharp jab and incredible foot movement and hand speed to keep his opponent on the back foot. It was a style that a number of legendary heavyweights were unable to counter.
However, Norton had a plan of his own thanks to his legendary trainer Eddie Futch who knew his fighter had the power to live with Ali. Their tactic was to disrupt Ali's flow with jabs to the body and an all action style, pressing style. It worked beautifully.
Ali was never allowed to settle for a moment and at some point in the fight, believed to be in the early rounds, Norton would land a thudding blow that would break the jaw of Ali. The number one ranked heavyweight would refuse to quit and continued to fight the full 12 rounds but Norton was awarded the contest by split decision.
"Ali thought it would be an easy fight," Norton's former manager, Gene Kilroy, was quoted as saying by A.P. "But Norton was unorthodox. Instead of jabbing from above like most fighters, he would put his hand down and jab up at Ali."
After the fight Norton would visit Ali in hospital where the defeated heavyweight was having his broken jaw wired, Ali would declare that he never wanted to fight him again.
Reflecting on that victory, Norton told Sweet Science years later: "I knew I would beat him because mentally I felt that way and my whole camp felt that way. I felt at that time I could've beat Godzilla.
"Ali defeated everyone mentally first. With Frazier, Ali had him so mad Joe was trying to kill him with every shot. With Foreman, he tried to kill him with every shot. Mentally, Ali could not defeat me and physically I felt I was as much a physical power as Ali was.
"He couldn't upset me in any way and plus, I had Eddie Futch. Eddie knew how to fight Ali. You can't go to the head with him. You have to go to the body first and then eventually he will bring his hands down and lower his head."
In his autobiography, Norton explained that the words from Napoleon Hill's Think and Grow Rich were the final inspiration for his victory. 'Life's battles don't always go to the stronger or faster man, but sooner or later the man who wins is the man who thinks he can."
Norton would go on to fight, and lose, two close contests with Ali before finally realising his dream and claiming a version of the world heavyweight title after Leon Spinks decided to fight Ali in a rematch instead of facing his mandatory challenger.
Having finally landed the WBC belt Norton had achieved the pinnacle but unfortunately he did not hold the title for long after he lost a brutal 15-round content with Larry Holmes. Many regard that contest as one of the most vicious bouts in heavyweight history as both men simply refused to quit.
Norton eventually retired with an impressive record of 42-7-1 with 33 knockouts. The former Marine's final contest was a first round defeat to Gerry Cooney in May 1981. He would go on to make appearances in several films and work as a fight commentator but he will forever be remembered for his epic rivalry with Ali.