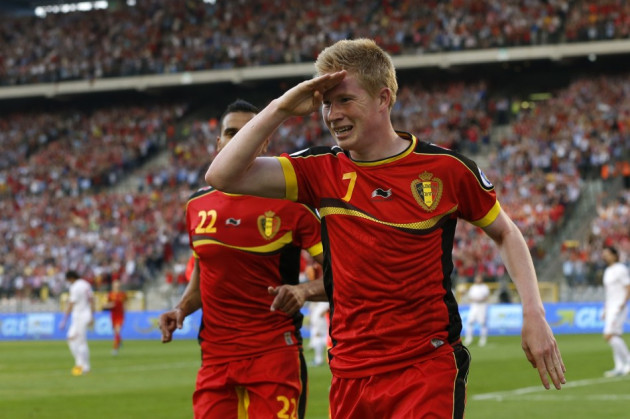 Andre Schurrle's long awaited move to Stamford Bridge was all but finalised today, after Chelsea confirmed they have agreed a deal with Bayer Leverkusen to bring the forward to west London, pending personal terms and a medical.
While the arrival of the German international will be met with delight after his meteoric rise in the Bundesliga, questions will immediately be asked of the future of another of the club's burgeoning talents who is yet to play a minute of competitive football for the Blues in Kevin De Bruyne.
Having starred for Werder Bremen on loan last season, Mourinho confirmed in his first press conference back in west London that the Belgian international would be part of the club's plans next season, along with his compatriot Romelu Lukaku.
"I can say that [De Bruyne and Lukaku] are the profile of player that Chelsea invested a lot in the past and I think it's my work and my contribution to extract the best out of that investment and I think both of them are ready to come and are ready to be part of our squad," Mourinho told the press.
Reassuring words for de Bruyne, but the arrival of Schurrle, who has already completed four full seasons in the Bundesliga and amassed 24 caps for the German national team, may change the landscape of his Chelsea future.
Chelsea already have an embarrassment of riches in the pocket behind a main striker, and while Schurrle is capable of playing that lead forward role, he could find himself vying for a spot alongside Eden Hazard, Juan Mata and Oscar, not to mention Victor Moses and the forgotten Marko Marin.
Where does De Bruyne fit into all this? Although he has been utilised in a deeper midfield role, as a false nine and in a wider position on the left for his country and under Thomas Schaaf's Bremen side last season, the 21-year-old has been at his most captivating in his favoured central role.
The number and sheer quality of options at Mourinho's disposal in this area of his team will have Chelsea fans salivating in the lead up to the new campaign, but it creates a potential headache for De Bruyne.
The Genk graduate has already proven himself to be a selfless individual on the pitch, willing to take up any number of positions at the first sign of instruction from his manager. But given the abundance of talent already occupying the Stamford Bridge dressing room with the club likely to continue their spending this summer, questions hang over his future, regardless of Mourinho's encouraging words.
The small matter of the 2014 World Cup will also play a role in the matter. Poised to top their qualifying group with a squad packed with prospering talent, De Bruyne has started five of Belgium's seven World Cup qualifying games, replacing Mousa Demble as a substitute on the two occasions he began games on the bench.
Having played such a prominent role in the build-up to the tournament, and having been such a fundamental figure at Genk and Bremen over the past two years, can he afford to occupy the Blues bench?
Should the prospect of leaving Chelsea, either on loan again or on a permanent basis arise, De Bruyne will have no shortage of options. But a long suggested move to Bayer Leverkusen as part of the Schurrle deal is now a non-runner, after the Bundesliga side confirmed the arrival of Son Heung-Min from Hamburg, a direct replacement for their London bound forward.
De Bruyne seemingly became the heir-apparent to Mario Gotze's influential role at Borussia Dortmund, after the German international saw his £31.5m buyout clause met by Bayern Munich. In many ways a move to the Westfalenstadion could be his best possible option, but the decision will ultimately lie with Chelsea.
With Mourinho's pledge, De Bruyne can hopefully look forward to the opportunities to light up the Premier League with performances that were one of the Bundesliga's many hidden secrets last year. But at this early stage of the summer, nothing is assured.