Several Premier League footballers have come out in support of AC Milan midfielder Kevin-Prince Boateng, after the Ghana international walked off the field due to racist chants from opposition supporters during a friendly encounter between Milan and Italian fourth division side Pro Patria on 3 January at Lombardy.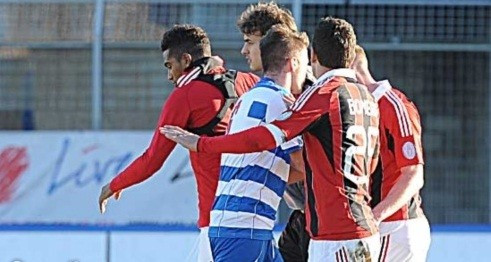 The former Tottenham star picked up the ball and kicked it into the crowd, 25 minutes into the game before ripping off his shirt and storming off the pitch in protest. Milan captain Massimo Ambrosini instructed the rest of the team to walk off in a show of support for Boateng, causing the game to be abandoned.
The 25-year-old has now become the first player in history to cause a football match to be suspended because of racist abuse, in what could be considered as a crucial moment in the fight against discrimination in the world's most popular sport. Boateng and his team-mates Sulley Muntari and M'Baye Niang were targeted by a section of Pro Patria fans before the start of the match.
Both clubs have condemned the racist chants, with Milan releasing a statement saying Italian football is now infested by "a small percentage of brainless idiots". The Italian Football Association has launched an investigation into the incident.
Meanwhile, Boateng tweeted: "Shame that these things still happen... #StopRacismforever."
Uefa has been criticised heavily of late for its failure to take a strong stance against racism. Boateng's actions could now be an example for others to follow and challenge Uefa's policy that players must remain on the field, regardless of crowd reactions. Premier League footballers have showed their support for the Milan man.
Manchester City captain Vincent Kompany: "Act of racism against Boateng during Milan's friendly. How about becoming extremely intolerant towards racist idiots? They need to be told... I can only salute Milan's decision to leave the pitch. Also noted that the majority of the fans were completely supportive of the players."
Manchester United defender Rio Ferdinand: "If the stories about KPB walking off the pitch with teammate's after being racially abused are true, fair play to him..well done... Will Uefa fine AC Milan for not controlling their players now?!"
Stoke City striker Michael Owen: "That Prince Boatang footage from the Milan game is shocking. Shame it takes a player to do that instead of the authorities being proactive."
Reading striker Jason Roberts: "Congratulations to AC Milan players and Kevin Prince Boateng for walking of the Pitch due to Racist abuse... Until the authorities take appropriate action and start taking this issue seriously, this battle will have to be fought by the players.."
Former Arsenal midfielder Patrick Vieira: "It was brave of Kevin Prince Boateng to do what he did, and it was the right thing. We need to stand up and stand together. Well done... Now is the time for the football authorities to stand up and do something. We need to see real actions that will have a genuine influence."