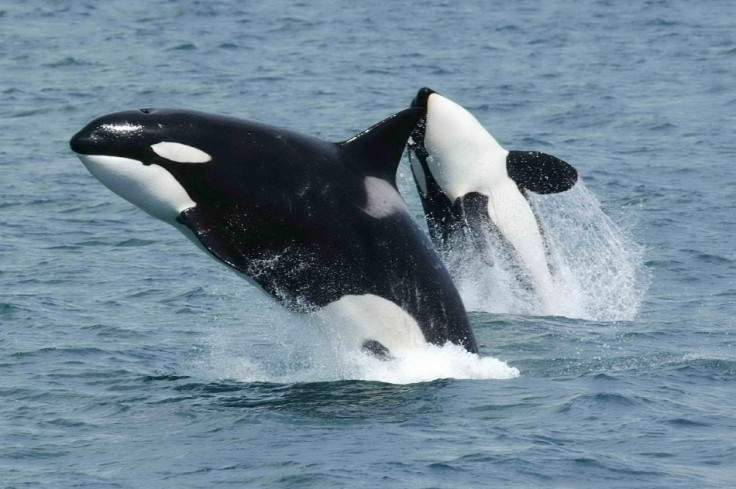 A pair of killer whales have been spotted off the coast of Cornwall.
The whales, rarely seen in the area, were spotted by an ocean scientist and again by a group of bird watchers.
Dom Clarke, who runs his own coastal exploration company, made the sighting when he was walking his dog.
"I was walking in a southern direction around the headland at Trevose Head when I saw a man stood at the top with a pair of binoculars," he said.
"As I came up to him turned to me and said "what sort of whales are those out there?". I took the binoculars and immediately saw the characteristic dorsal fin of a killer whale.
"That was amazing enough, but a second later I saw another, much smaller fin, break the surface as well. There was no doubt that was what they were.
"I immediately went to see a friend of mine, Susie Ray, who is qualified to rescue beached whales and told her what I had seen.
"We always compete over what interesting things we see in the waters and I think that one will put me ahead for a while." Mr Clarke, 25, had recently seen a large number of porpoise off the coastline and the killer whales were spotted in the same area three days later by a group of birdwatchers.
"I couldn't believe the fact that these amazingly rare creatures were seen by more than one person and none of us had a camera," he added.
Killer whales, which can grow up to 26 feet in length and can weigh up to nine tonnes, with a dorsal fin that can strectch up to 6 feet high.
They are most commonly found around the Norwegian coast as well as the waters surrounding Iceland and Northern Scotland.
Experts believe that the sighting, made last week, could become more regular as global warming changes water temperatures and predators follow their prey north.
A dwarf sperm whale was sporred for the first time in the UK off Mount's Bay, Cornwall, earlier this year.