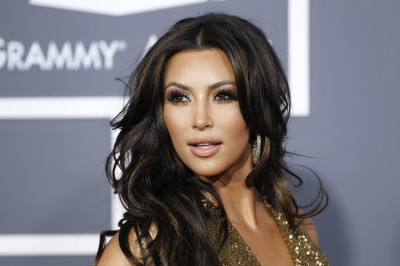 American reality star Kim Kardashian has so many plans when it comes to her daughter North West's future. But first of all, she wants her daughter to travel the world.
"I want her to travel a lot. I think it's important to see different cultures and lifestyles. I didn't start travelling internationally until I was a bit older, and I learned so much. I can't wait to show her the world," Kardashian said while replying to questions from fans on social media site Mobio Insider.
Meanwhile, Kardashian shared several previously-unseen photos of her daughter in The Ellen DeGeneres Show, gushing North West was the perfect baby. She also shared the experiences of her difficult pregnancy.
"She changes all the time. One day she'll look like Kanye, one day she'll look like me. It's so crazy. And her personality is so cute. She is really calm and really quiet," she said.
When quizzed whether she had always wanted to have children, Kardashian admitted she wanted about six.
"After having her I would have a million," the 33-year-old continued.
She also revealed that the pregnancy was far from smooth-sailing and not something she wants to repeat anytime soon.
"The pregnancy, I wouldn't really wish that upon anyone. Anyone," Kardashian insisted.
She, however, added that it was worth it in the end.
"It's all worth it in the end, so I would definitely suffer through that, but pregnancy was not a good experience for me. At all," she added.
Kardashian also said women who say that it's a beautiful thing were lying.
"They are lying. They are LYING to you. I'm telling you. Kourtney said that, my mum said that. I was literally giving birth and I looked at my mum and I said, "I'm going to get you a medal. You deserve everything," she confessed.
"My labour was easy, but just the whole pregnancy was so... I had a few medical issues, so it was really tough, and I gained a lot of weight," she added.