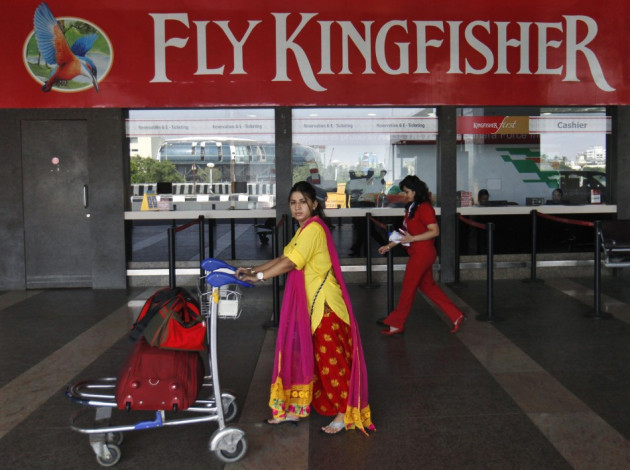 Grounded Indian airline Kingfisher has posted a bigger loss for the second quarter of fiscal year 2012-2013 primarily due to a sharp drop in revenues.
The net loss in the July-September quarter amounted to 7.54bn rupees (£86.6m), compared to a loss of 4.69bn rupees (£53.9m) a year earlier. Loss per share, however, narrowed to 9.42 rupees (£0.108) from 9.67 rupees (£0.111) due to an increase in shares outstanding for the quarter under review.
The debt-ridden air carrier's income from operations, equivalent to revenues, plummeted to 2.0bn rupees (£23.0m) from 15.53bn rupees (£178.3m).
The quarterly results have also been hit by expenses of 2.33bn rupees (£26.7m) related to re-delivery of aircraft and restructuring and idling costs of 2.15bn rupees (£24.7m) to maintain the grounded planes. Additionally, finance costs rose to 4.01bn rupees (£46.0m) from 3.34bn rupees (£38.3m).
The airline, owned by liquor baron Vijay Mallya, has not flown since the beginning of October after a protest by employees, who were not paid since March.
The Directorate General of Civil Aviation (DGCA) suspended its licence in October after the airline failed to address the aviation authorities' safety concerns. The authorities also cited concerns about the company's financial future for its move. Kingfisher owes money to its staff, airports and tax authorities.
Earlier, the State Bank of India, the company's biggest lender, asked it to bring in fresh equity or an investor to infuse capital of about $1bn (£626m) by 30 November. The bank leads the 17-member consortium that has lent about $1.4bn (£875.9m) to the air carrier. The company's loans have become non-performing and it would have to repay some of its dues to make them performing assets.
The company's long-term borrowings stood at 53.52bn rupees (£614.1m) as on 30 September, while short-term borrowings and trade payables amounted to 32.80bn rupees (£376.3m) and 29.0bn rupees (£332.7m), respectively.
In order to tackle the situation, the airline offered to pay a portion of its dues to the staff and reached a deal with them. However, it still needs to submit a detailed plan to the authorities for its financial future to get its licence revived.
"Kingfisher Airlines is preparing a comprehensive plan for re-start of operations which will be shared with the DGCA and bankers," the company said in a statement. "The airline is in discussion with various stakeholders to ensure that there are no future disruptions. Kingfisher Airlines expects to resume operations in the near future."