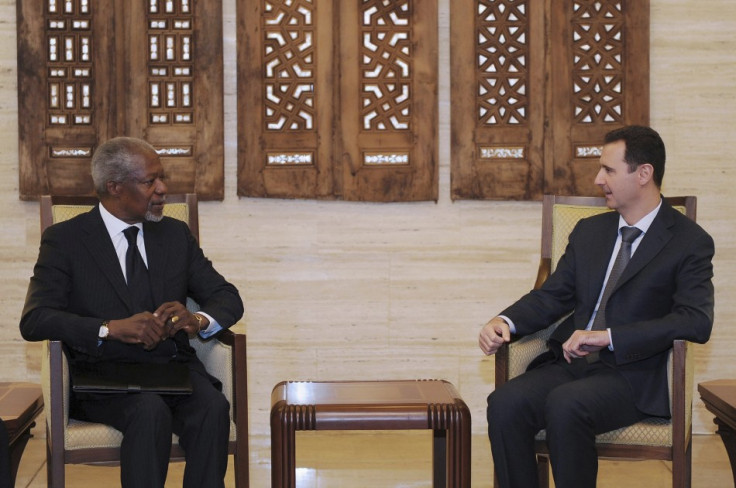 UN envoy Kofi Annan told embattled Syrian President Bashar al-Assar that "bold steps" are needed to implement his six-point plan to halt violence.
"Joint Special Envoy Kofi Annan met President Bashar al-Assad this morning to convey the grave concern of the international community about the violence in Syria, including in particular the recent events in Houla.
"He conveyed in frank terms his view to President Assad that the six-point plan cannot succeed without bold steps to stop the violence and release detainees, and stressed the importance of full implementation of the plan," said the statement issued by his spokesman Ahmad Fawzi after talks in Damascus.
Annan is trying to retrieve a six-week-old peace plan backed by the UN and the Arab League, as Syria faces international criticism and pressure for its role in the Houla massacre, in which 108 people, including 49 children and 34 women, has been murdered.
Survivors have told UN that most of the victims died during summary executions carried out by pro-government Shabbiha militia.
"I believe at this point, and I would stress we are at very preliminary stages, that under 20 of the 108 can be attributed to artillery and tank fire," UN rights spokesman Rupert Colville said.
Meanwhile, nations including Australia, Britain, Italy, Canada and France are all expelling top diplomats because of the issue of civilian deaths in Syria.
Francois Hollande, the new French president, has announced that the Syrian ambassador to the country is to be expelled immienently.
Australia expelled Syria's top diplomat over the "hideous and brutal" massacre at Houla, foreign minister Bob Carr said.
"This is the most effective way we've got of sending a message of revulsion to the Syrian government," Carr told journalists. "The Syrian government can expect no further official engagement with Australia until it abides by the U.N. ceasefire and takes active steps to implement the peace plan agreed with Joint Special Envoy Kofi Annan."
British foreign ministry announced that three top diplomats will be expelled. Among them is Ghassan Dalla, the Syrian Charge d'Affairs in London.